Momentous Zoom Meeting with Team Japan Skipper: Interview with Lars Nootbaar's Parents (#2)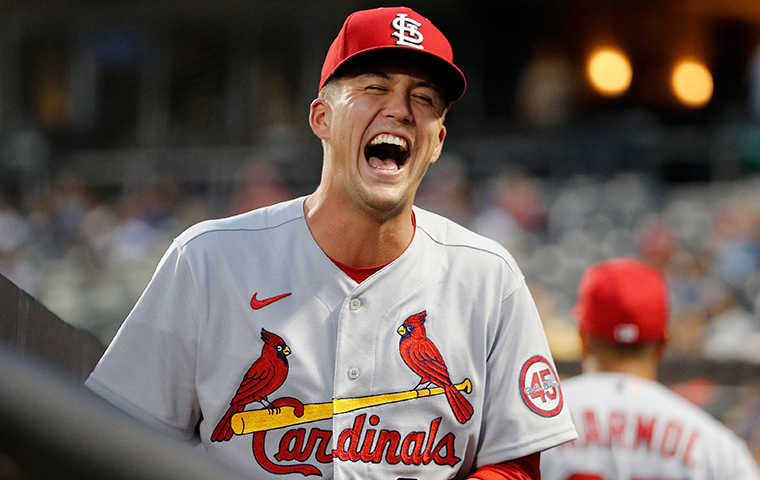 Continued from #1
St. Louis Cardinals outfielder, Lars Nootbaar, 25, was selected to play for Japan in the March World Baseball Classic (WBC) as the first non-Japan-born player. We interviewed his Japanese mother Kumi about the Zoom meeting with Team Japan Manager Hideki Kuriyama, which turned out to be an improbable offer for Lars to represent Japan. His father Charlie, who coaches amateur baseball, talked about the strengths of Lars as an MLB player.
Season Canceled by COVID Pandemic: "Get a Part-Time Job"
– Lars joined the St. Louis Cardinals through the 2018 MLB draft.
Kumi: During his days in the Minor Leagues, he was more noted for the unusual name, Nootbaar, than his performance as a player. In 2020, his second season, the Minor Leagues were shut down because of the COVID pandemic, and it was a worrying time.
– I hear the Minor League is a tough place.
Kumi: However, that year in 2020, Lars was also a university senior*, so he could use the time for his studies. Of course, he continued his training to prepare for the league opening. At the time, he was wondering whether to get a part-time job. So, I said, "Go ahead." He got up at four, six days a week, did physical labor at an aerospace company, and when he got home, he attended online classes while eating lunch, and did some training after that…… so he was doing a lot of things.
* Editor's note: For the MLB draft, university juniors become eligible at the end of their school term. Those drafted either leave university and become a pro or remain enrolled and graduate by studying in the off-season, as in Lars' case.
– What was your intention in telling him to get a part-time job?
Kumi: Though there was no baseball with the ongoing pandemic, I didn't want him to be just sitting around. And I also thought it would be better for him to get some social experience. He should have some idea on what to do when baseball doesn't work out. Like an image of a second career? Being a Showa era generation, I guess I'm quite pragmatic, or strict.
"There's No Way," upon Hearing the Rumor
– After experiencing a part-time job, he debuts in the Major Leagues. Last season, he played in 108 games, with .228 batting average, 14 home runs, 40 RBI, and .788 OPS. Especially in the second half of the season, he marked .366 OBP, .480 slugging average, and 10 home runs, showing remarkable growth.
Kumi: I watched every one of Lars' games, on TV or at the stadium. It's very thrilling during the season because there are games almost every day. But I just couldn't watch when he was doing badly at the plate…… I don't feel like eating dinner. They won the division title, then the playoffs started in October, so I felt restless all the while. But I think it was around that time when I heard a strange rumor from Lars.
– You mean, about the chances of joining the Japan national team?
Kumi: When I first heard about it, I didn't believe it a single bit, honestly. I was like, "There's no way. This is the WBC, you know? Samurai Japan." But in November or December, Manager Kuriyama called through the interpreter, Ippei Mizuhara, saying "We'd like to check some things about Lars' and his mother's passports (for WBC qualification)." But we didn't hear from him for a while, so I was starting to think, "May be they were only checking, just in case," when Lars told me, "We will be having a Zoom meeting with Manager Kuriyama and Ippei-san on this day," and I was like "Whaaaaaaat!?" (laughs).
"Lars Suddenly Put Me on Zoom with Manager Kuriyama……"
– I heard Lars had a Zoom interview with Manager Kuriyama.
Kumi: That's right. It was the three of them, including Ippei-san. But I wanted to hear the conversation, and Lars told me to sit by his side, so I told him just don't bring me into the conversation, and watched on.
But during the talk, he would go and do it…… suddenly saying, "My mother's right here. Would you like to talk to her?" When I haven't done my hair or put on any makeup. So, I had to make an appearance, saying "Sorry for joining in," all along (laughs). I exchanged greetings with Manager Kuriyama, and Ippei-san was watching with a broad smile. Just recalling it makes me blush.
– Do you remember any impressive comments from Manager Kuriyama from the interview?
Kumi: He said, "I don't want it to be a pressure on him, but Lars would make history as the first Samurai Japan member born outside of Japan." It made me realize again that Lars was going to play such a big role…… I even thought for a moment I should have given him birth in Japan (laughs).
Inspired by Former Yomiuri Giants Pitcher Miles Mikolas's Love for Japan
– Lars didn't think twice about accepting the offer. Was it his long-held dream to represent Japan?
Kumi: He's been fond of Japanese culture since he was a child, and he also got to know Yuki Saito and other members of the 2006 high school all-stars. And I guess he must have wanted to play together with the impressive lineup, including Shohei Ohtani. His Cardinal teammates who've played in previous WBC games were saying, "You should go" and "WBC is awesome."
Especially Miles Mikolas, now at the Cardinals, used to play for the Yomiuri Giants and still loves Japan. Hearing about his time in Japan could be one reason that made Lars definitely wanting to join Team Japan.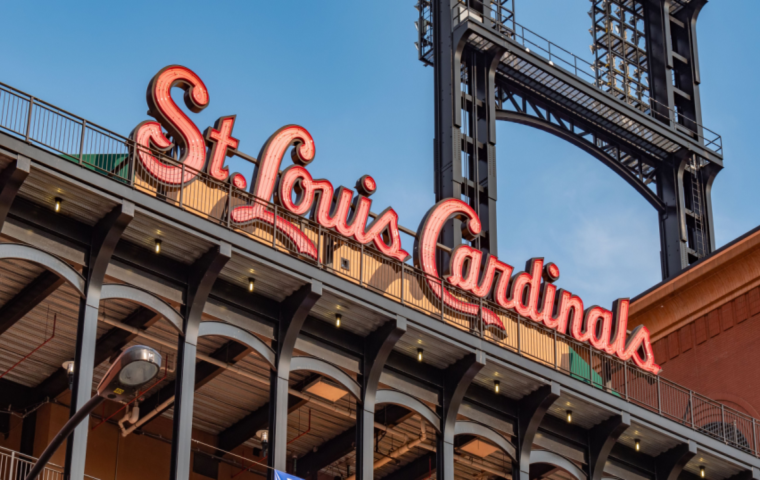 – Kumi, you must have been really excited when Lars was set to join Team Japan.
Kumi: Yes, it's really like a dream. I still can't believe it. My parents in Japan are also thrilled and so eager. I hear they're buying every newspaper they can get their hands on, making a scrapbook with all the clippings related to Lars.
– In a similar case, the pitcher Marcus Stroman of the Chicago Cubs got the previous WBC title (and MVP) playing for Team USA. This time, he's representing Puerto Rico, where his mother is from.
Kumi: With more and more cases like that, it will be exciting for baseball fans. And particularly as a parent, I'm really happy…… Even though we are born and raised in different countries, having your son represent the country of your origin is—it's hard to explain—a delight beyond words.
Mother's Advice to Son
– In that respect, as someone born in Japan and now living in the States, maybe there's some advice you can give to Lars, who's joining Team Japan, where he'll be meeting many of the members for the first time.
Kumi: I'm not so worried about that, because if there's one thing Lars is good at, it's instantly blending in with any team or community. Also, maybe it's rather unusual in the States, but I've always been strict on our kids about being punctual and saying hello to people.
Recently, I've told him that Japanese culture values harmony. Like "When in Rome, do as the Romans do," go along with the local customs. Some things, even if you've been doing it for your entire life, may not be acceptable in a different county. So, I told him he has to get used to the Japanese customs.
Father Talks about Lars' Strengths as a Player and Ideal Batting Order
– We'd like to ask his father Charlie, who is an instructor for amateur baseball players. Frankly, what are Lars' strengths as a player?
Charlie: His strong point that hasn't changed since childhood, is his ability to meet the ball. That's why he has few strikeouts. Now, he is at a stage where he's adding power to his element of a contact hitter. Because, to do well in professional baseball, you need extra-base hits as well as singles.
– What kind of player is he aiming to become?
Charlie: As far as I see, he seems to want to be a balanced player. Being able to hit long balls in batting, taking advantage of his strong arms in fielding, and the speed for making steals. In fielding, he's now mainly in right, but can play both left and center. I believe his goal is to be fixed as a center fielder.
– What do you think is his ideal batting order?
Charlie: Well…… I guess second. Because he's good at making contact with the ball, he can move the runner, say, from first to third base. Nowadays, very few players bunt in the majors. But if he gains more power in the future, his ideal batting order will probably change.
Calls for Lars and Ohtani Playing Lead Off and Second Batter
– I see. He's a reassuring additional power to Team Japan, and we hope to see more growth during the games.
Kumi: Let me add something to what Charlie just said! Last season, it was Lars who hit the biggest home run at the Cardinals (452 ft = about 138 m). Sorry for being a doting parent, but I just wanted to brag about that (laughs).
– Thank you! I hear there are some calls for having Ohtani and Lars as lead off and second batter.
Kumi: That…… is scary. Of course, I'd love to see it, but just imagining it gives me pressure. I just hope that he does his best as a member of Japan's national team. I wonder if I have the nerve to watch the games…… (laughs).
This is a translation of the Japanese article published on January 18, 2023 on the Number Web.
Lars Taylor-Tatsuji Nootbaar is St. Louis Cardinals outfielder, age 25, bats left, throws right, 190 cm (6' 3"), 95 kg (210 lb), born on September 8, 1997 in California. He joined the Cardinals from the University of Southern California after the team selected him in the eighth round of the 2018 MLB draft. He debuted in the major leagues in 2021. His maternal grandfather is the namesake of his middle name, Tatsuji.