"Everything's True Except for the Wiping": Sumo Wrestler Turned Actor on Netflix's Sanctuary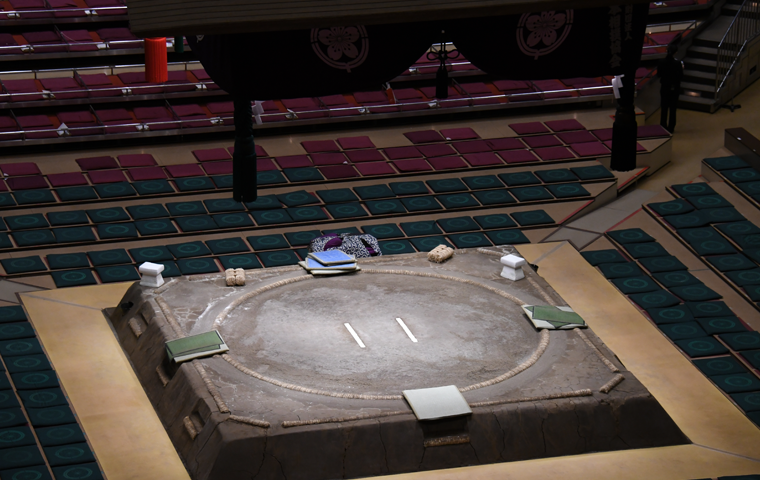 Since its May 2023 release, the Netflix drama Sanctuary has garnered wide publicity. Kensho Sawada, 37, made his debut as Enya, the senior stablemate of the protagonist Enno. The retired sumo wrestler, who used to be an attendant of Kokonoe stablemaster (former Yokozuna Chiyonofuji), talked about the making of the drama series.
In early May, Sawada received a Line message from a former Yokozuna on his smartphone: "My wife and I cried watching the topknot cutting ceremony."
It was from Kisenosato (now Nishonoseki stablemaster), who was the same age as Sawada.
Straight out of junior high, Sawada joined the Kokonoe stable, headed by former Yokozuna Chiyonofuji, and debuted on the ring, along with Kisenosato, at the 2002 spring tournament.
At a time when more and more high-school and college graduates were entering professional sumo, the two were true contemporaries, working their way up out of junior high school.
"We've always been good friends, and when I retired from sumo, he came to the follow up party of my topknot-cutting ceremony. When I started my restaurant, he was kind enough to come for the opening."
Sawada was delighted Kisenosato immediately sent him a message after watching the drama, saying how he was moved.
"You know, it really made me happy. Because for our generation, the strict training and customs you saw in the drama were the norm, so for him, too, it must have struck a cord."
But Kisenosato also said, "It would scare off the would-be apprentices."
Global Buzz on the Accurate and Brutal Portrayals of Sumo
The Netflix series Sanctuary, released globally on May 4, is a sports drama featuring a delinquent protagonist seeking to advance in the sumo world. The true to life and brutal portrayal, offering a glimpse into the esoteric tradition, intrigued the viewers, and Sanctuary earned the top spot in Netflix Japan's "Today's Series." Outside Japan, the show was also among the top 10 (non-English TV division) in Hong Kong, Turkey, and Greece. It was already a hit in its second week, rising to sixth place in the division's global ranking.
Sawada played the role of Enya, a former Komusubi and a senior stablemate of the protagonist, Enno. Among the supporting cast full of unique characters, the role demanded a strong presence. Yet he showed a remarkable performance hardly expected of a retired sumo wrestler in his first try at acting.
"You know, there's an immense response, gradually increasing after the release, and even more since we got news coverage. I'm especially pleased that people who've never watched sumo are saying the drama made them want to see the sport."
The viewership seemed to have expanded across the professional sumo world, and Kisenosato was not the only Yokozuna who gave him a response.
"I was invited to this place, and Hakuho-san happened to be there. I was amazed when he called me, 'Enya!' He seemed to like the line by Enya, "Your sumo is just a dot. To connect the dots, stomp your feet," and made me say it on the spot (laughs)."
The drama is filled with realities that resonate with even the renowned Yokozunas.
At the shooting, the first thing that surprised Sawada was the elaborate sets. The sumo stable built inside the studio had an entrance, practice area, and chanko kitchen that looked just like the real thing. The Ryogoku Kokugikan Arena, professional sumo's sanctuary, was also recreated faithfully inside a large gymnasium. Not only the ring, but the form of the walkway, the seats, and the layout of the lighting were made to such perfection, it evoked nostalgia for the former sumo wrestler.
Everything's True, Except for the Wiping in the Washroom
Sanctuary was full of anecdotes on training and everyday life that sumo wrestlers could relate to. For example, there was a scene where a senior stablemate made Enno eat a mixture of salt and grit. Sawada says, "That was common when I was a sumo wrestler."
"During my days at Kokonoe stable, it was really quiet during practice, and you didn't hear any voices. There's only the sound of clashing bodies and stomping feet (shiko). So when you're panting, the seniors tell you to shut up and make you eat grit."
In the drama, Enno swallows the grit and salt. How do the apprentices actually handle this?
"We didn't swallow it, but spat it out. But we can't go and rinse our mouth during training, so we continue practice with a gritty mouth. Well, it's okay if it's just grit. But the salt absorbs all the moisture in your mouth. So we can put up with just grit, but salt was unbearable. I had it done to me almost every day (laughs)."
However, about the seniors making the juniors wipe their backside in the washroom, he laughed it off, saying," We don't do that. It must be an urban legend."
"But everything else seems natural. There are typical sumo wrestler phrases, like 'Gotchan-desu (Thank you)' and 'Deretto sun-na (Don't be slack).'"
In the sumo world, there is a saying, "practice for three years ahead," meaning you should cultivate fundamental strength instead of makeshift technique. Sawada says the making of the drama series was just like that.
After he passed the first audition as a cast candidate, the first thing he had to do was not acting but sumo practice. Six months later, he passed the second audition and officially became a cast member. But he didn't know at all what part he was going to play.
"Of course, that wasn't the case for the leading actor, but others like us weren't told which roles we were playing, nor about the story. Since it was my first time shooting, I thought maybe this was the norm. But the other actors were saying it's weird."
In that limbo state, they practiced for a while, then received the script at last.
"I thought I was screwed and got worried, because I had to cry in one scene, and it was more acting than sumo. From there, I stopped being shy and asked my fellow actors everything, about how to prepare for a role and memorize the lines."
He especially got friendly with the actor Shuhei Ishikawa, who played the part of Enku, a junior stablemate. After rehearsals, they always took a bath, and while taking turns in the tub, Sawada sought advice on acting, and Ishikawa asked him questions on sumo. Sawada also discussed with the director Kan Eguchi about voice intonations and expressing emotions. That is how he formed the character of Enya.
Enya = Ideal Sumo Wrestler + Chiyonokuni
During his sumo career, Sawada's highest ranking was 59th in the Makushita division. He had not reached the Sekitori status (top two divisions), so when acting the role of a Komusubi (fourth highest rank), the gap was also an issue. When he contemplated on how to act a rank he never experienced, there was a good role model close at hand.
"I integrated my brother Chiyonokuni with an ideal sumo wrestler."
Sawada's younger brother, Chiyonokuni, is still an active sumo wrestler at 32. His highest ranking is the top spot in the Maegashira rank. He has fallen from the Sekitori status many times with injuries but climbed back up with a tenacious fighting spirit. His image surely overlaps with Enya.
"As for me, when I suffered from an illness during my sumo career, I was quickly discouraged. But Chiyonokuni isn't like that. He gets injured, falls to the bottom, but doesn't give up. No matter what the others say, he steadily works by himself. He has a family to support, and the situation is like Enya's. That's why I drew on my brother's experience for the way Enya faces sumo."
On top of that, he merged the "ideal sumo wrestler's image," which was……..
"Well, it's Kisenosato."
With an embarrassed look, he revealed the name of his contemporary, who contacted him immediately after the drama's release.
"He's quiet in front of the spectators, but when among his fellow mates, he's a fun guy to drink with. His every demeanor was really cool. Even as a contemporary, I admire him. Especially later in my career, when he was promoted to Ozeki, I had more time and often watched his bouts. You can't impersonate someone so eminent as Hakuho-san, because he's like god. No way (laughs). Someone who's more unrefined, like Kisenosato, was just right."
Therefore, Chiyonokuni + Kisenosato = Enya. With the character of his role fixed, Sawada took on his sumo training with increased fervor. At practice, he led the cast members of the Ensho stable.
Actors Doing 300 Shiko Stomps Aiming for the Low Sink Posture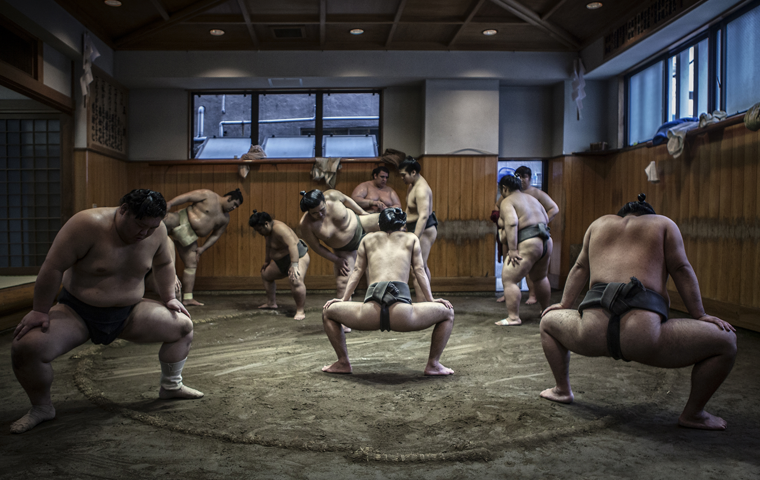 For the actors in the same stable, he assigned them to do 300 shiko stomps.
"Since active sumo wrestlers may also see the drama, I didn't want to embarrass myself as a former wrestler. Otherwise, I thought even my brother may be laughed at. So, I suggested to the cast members we'll do at least that much stomping. They hated me for making them do the shiko drill (laughs), and complained, 'We're not trying to get strong,' and I said, "Yeah, I know.'"
On training day, they took turns calling out the number of stomps, dripping sweat on the ring, repeating the move. When Sawada was training at the Kokonoe stable, they used to stomp for an hour non-stop every day, which would be at least 500 times.
"After all, I believe the beauty of the sport depends on whether you can do the low sink posture. And that's achieved through shiko training. It's the very basics of sumo."
The physiques of the actors, growing sturdier with every episode, impressed the viewers. Behind this was the steady training, just like the real sumo wrestlers. Sawada had gained over 20 kg (44 lb.) from 108 kg (238 lb.) when he retired.
The drama's uncompromising pursuit for realism continued into the shooting. That was where Sawada encountered a strange feeling.
Kensho Sawada was born on June 23, 1986, in Iga City, Mie Prefecture. His ring name was Chiyonoshin. In his younger years, he engaged in karate (first dan) together with his sister and brother (Chiyonokuni). He joined the Kokonoe stable after graduating from junior high school and debuted at the 2002 spring tournament. He retired at the 2012 autumn tournament, with the highest career rank of 59th in the Makushita division. After becoming a restaurant owner, he debuted as an actor for the role of Enya in the Netflix original drama series Sanctuary. He is 178 cm (5' 10") tall and weighs 130 kg (287 lb.).
This is a translation of the Japanese article published on June 26, 2023 on the Number Web.