The Trust Yuta Watanabe Earned in Nets—His NBA Dream Stage for 2023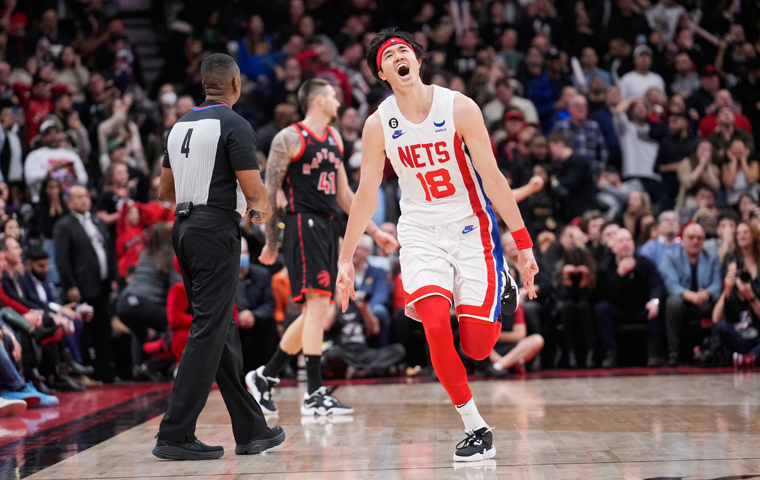 "If I'm to describe 2022, it would be 'a year of change.' I got married, and I changed teams. My environment changed in various ways, and they all turned out to be good. The start of 2022 had been pretty tough, but in the end, even that has helped me to grow stronger, and I've had a great year."
As he looked back on the tumultuous year, Yuta Watanabe seemed cheerful as ever.
His 206 cm (6' 9") body was literally beaming with a sense of fulfillment. Now, he even has an air of dignity as a key member of the Brooklyn Nets, the star-studded team representing the NBA, and Watanabe must be enjoying the prime of his life.
Not Always Smooth Sailing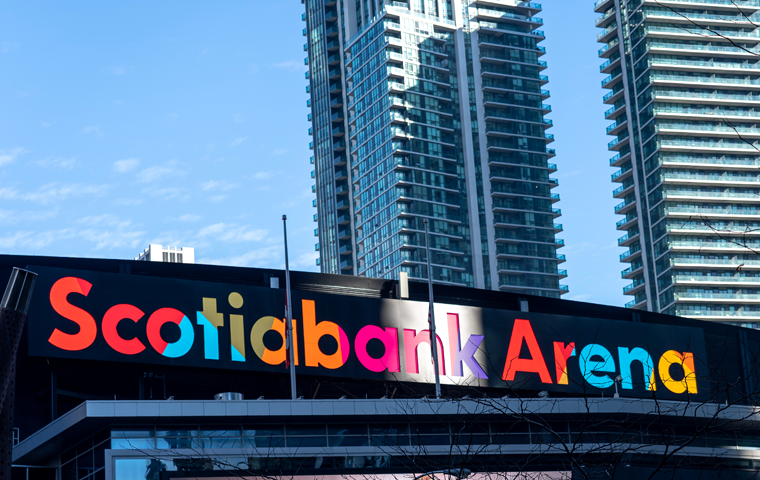 Like he says, it wasn't always smooth sailing, if we focus just on his time as a basketball player. Since January 2022, when he was with the Toronto Raptors, his minutes played dropped drastically, when he tested positive for COVID-19. This season, against his hopes, he could not remain with the Raptors. In July, although he attended the FIBA Asia Championship as a member of Japan's national team, he dropped out with a right ankle injury. Now, he could happily look back on such a turbulent year.
"I thought it was going to be a lot of work, including things like going to another team and starting new relations all over again. I loved both the Raptors and the city of Toronto, and my best hope at the end of the season was to remain in Toronto. But last year made me realize the importance of experiencing diverse changes like this."
He could sum it up like that, because of his success at the Nets, after signing a new contract during the previous off-season.
Watanabe started the 2022-2023 season with a non-guaranteed camp contract. But his reputation skyrocketed during training camp, openers, and early season games. With hustle play, apt defense, and precise three-pointers, he quickly became an indispensable asset to the team.
At the November 17 game against the Portland Trail Blazers, he sank five three-pointers, and at the November 20 game against the Memphis Grizzlies, he splashed four consecutive threes in the fourth quarter, creating a number of highlights. Especially at the December 16 game against the Raptors, he scored six out of seven field goal (FG) shots and with 15 seconds remaining in the final quarter, sank a three-pointer and overturned the score, contributing to the win. "In a game at a memorable place, I played an active role, and we were able to win. That was the best game of the season," said Watanabe. He must have felt satisfied with his splendid performance against his former teammates.
With his three-pointers in excellent shape at 52.1 percent as of the end of the game on January 3 local time, he leads the entire NBA. As he continues to play well, Watanabe has earned the trust of his Nets teammates, including the super-stars like Kevin Durant, Kyrie Irving, and Ben Simmons. His growth curve is dramatic and thrilling, unexpected, and even moving.
Brooklyn Fans Charmed by His Smile
As he continues his upward drive, Watanabe becomes a favorite among the Brooklynites. These days, every time the number 18 turns up, the Barclays Center, home to the Brooklyn Nets, is filled with loud cheers. Sports fans may already know that he is frequently featured on the team's social media account. Ian Eagle, who calls Nets games at the YES Network, explains the reason for his soaring popularity.
"I've been doing this job for 30 years, but I've never seen a player that conveys the joy of playing this sport and the love for the game of basketball as much as Watanabe. His energy is contagious and gets through to those of us watching."
Eagle is another one who is charmed by Watanabe. Recently, a posting by the Nets account became viral, with Eagle calling Watanabe's name with increasing level of enthusiasm.
While hustle play is Watanabe's trademark, these days, he seems to really enjoy playing. He is always smiling, whether on the bench or on the court. He surely shows the fun of basketball, which is, after all, a game, and the delight of competing in the grand stage of the NBA. So, I guess the Brooklynites witnessing his bliss up close could not help feeling affinity and affection toward him.
Meanwhile, for Watanabe as well, Brooklyn seems to be a perfect environment. The lefty who struggled to find a distinct role in the NBA, is now a perfect fit in the star-studded team, which had, despite the army of talents, lacked the three elements of defense, energy, and chemistry. He says that with his own growth, and becoming an indispensable player for the Nets, made him recall the roots of getting involved with this sport.
"I've always loved basketball, and that's my strongest driving force. Early in 2022, when I hardly had playing minutes, it wasn't fun, to be honest. I'm a basketball player, so I was intent on being on the court. To enjoy playing, maybe it doesn't have to be the NBA—that's what I thought during the off-season. Then, in the summer with Japan's national team and now here with the Nets, I'm appearing in all these games. I'm glad I was reminded of how much I loved basketball."
Nets One of the Top Contenders for NBA Championship
At the same time, the Nets have entered a period of remarkable performance. In addition to the leading players including Durant, Irving, and Simmons, the 23-year-old Nic Claxton has shown progress, creating the much-awaited chemistry with the supporting casts like Royce O'Neale and Watanabe. From December 17, the team has marked a 12-game winning streak with overwhelming strength and is now considered one of the contenders for the NBA championship.
In such a powerhouse, Watanabe is now entrusted to play the closing minutes. His three-pointers are still precise, and there are calls for him to compete in the three-point contest, which will be held at the All-Star Weekend in February. Watanabe has commented, "I do need some rest, but if I'm invited, it would be an honor. Being who I am, I wouldn't decline."
The promising season has just begun. Going ahead, more splendor and numerous highlights may await Watanabe.
"Since I joined the NBA, I've always set the championship as my goal. I really think there is a great chance this season. I don't have a personal goal, but of course, I want to continue being an important piece and be one of the driving forces for the team. I want to keep on going by always thinking about what I should do for the big goal of the team's championship."
Just imagine—in June 2023, Watanabe is at the NBA finals, a stage where no Japanese player has set foot on, playing the critical minutes for the Nets, pushing toward the championship. Such an epic scenario is no longer a mere dream.
Yet, it is also true that we should not jump too far ahead. In the continuously rejuvenating American sports scene, the situation could change in an instant. It is still fresh in our minds that a year ago, Watanabe himself was a main force at the Raptors, but soon lost his minutes on the floor following his COVID-19 infection and changes in the team roster. With a worrisome hamstring, Watanabe could get injured, or the Nets may get reinforcements any time this season, so, number 18 with a one-year contract is still in a tough position.
As mentioned earlier, Watanabe started the season with a non-guaranteed contract, but if he is not discharged by January 10, he is guaranteed the rest of the season. Yet, this does not mean his role or position will be secure; he is just guaranteed the season's salary. Although Watanabe's approximately 1.97 million dollars a year is not a burden for the Nets, he still has risks of being dropped from the roster. To quote Watanabe, he is "hanging on the edge of a cliff" on the continuous path for survival.
Of course, Watanabe is wise enough to be fully aware of reality. In his fifth year at the NBA, he could be called a veteran. The 28-year-old who says he has seen various players get cut off before his eyes, never forgets his sense of crisis. He sure knows further improvement is required, especially to survive in a team aiming to win the championship.
"I'm Not Entrusted for a Matchup with Giannis Yet"
"I need to get better. That's what I thought at the game against the Milwaukee Bucks (December 23). I guess it had to do with the matchup, with Giannis Antetokounmpo as the four (power forward) and Brook Lopez as the five (center). I didn't get to play in the closing minutes. I believe I've earned some trust, but not enough for a matchup with Giannis yet. After that game, I really thought I want to improve, I need to step up more. It's about how much presence you can demonstrate in a team seriously seeking to be the champion."
To secure playing minutes at the Nets, where "anything short of going to the finals is a failure," requires competing against orthodox forwards like Giannis, Al Horford and Jayson Tatum of Boston Celtics, and Evan Mobley of the Cleveland Cavaliers. It's tough, but just looking at these names makes you excited. And for Watanabe, who has developed by overcoming all kinds of adversities, such a difficult task does not seem impossible.
After ending "a year of change," would 2023 become a "fruitful year" for Watanabe? The thrilling expectation that has been in the air throughout the season is still there. Watanabe's roller-coaster NBA career is set for the most intense, yet also the most exciting time.
This is a translation of the Japanese article published on January 6, 2023 on the Number Web.