"My Name Is Lars Nootbaar. I'm Japanese," He Foretold at 10: Interview with Mother Kumi (#1)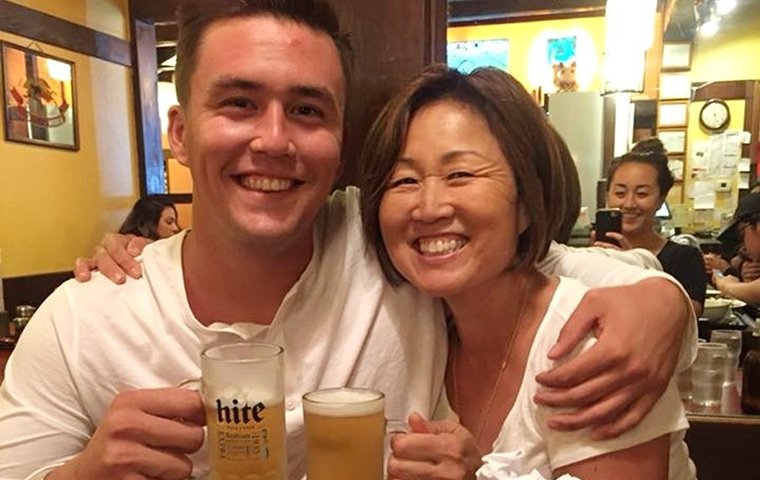 "If you talk with him in person, there's a 100 percent chance you'll like him." St. Louis Cardinals outfielder, Lars Nootbaar, 25, was selected to play for Japan in the World Baseball Classic (WBC) as the first non-Japan-born player. We interviewed his Japanese mother Kumi, about his unknown connections with Japan, and the "100-percent-likable" personality lauded by Team Japan Manager Hideki Kuriyama.
How It All Begun; Lars, the "Future Team Japan Member"
– First, congratulations on Lars joining Japan's national team.
Kumi: Thank you. It was really unbelievable…… still feels like a dream.
– As his mother, you are a Japanese from Saitama Prefecture. His father, Charlie, is an American with a Dutch heritage. So, how did you two meet?
Kumi: Well, since it's more than 30 years ago, this is a bit embarrassing. After I finished technical school, I went to the U.S. to study English, and met Charlie who was attending California Polytechnic State University. He was introduced to me as an American guy interested in Japan.
– And then you got close from there?
Kumi: No, not so much then. But he said he was going to study in Japan and stay with a host family in Sakado (Saitama Prefecture). And I said, hey, that's close to my hometown! I was also returning to Japan around that time, so we said maybe we could get together somewhere. Later, his host family said they couldn't take him in at the last minute, and he didn't have anywhere to go, so I said, you might as well stay at our house. Then one thing led to another……
After he graduated from university, Charlie joined the Japanese company Toyo Suisan, and the two of us moved to Seattle, then he changed jobs, and we came back to California where he is from.
– So, you have three children, and Lars is the youngest?
Kumi: I first had Nigel, then Nicole, and Lars was born in 1997. I was anxious about having a baby abroad, and since it coincided with my sister's wedding, I returned to Japan to give birth the first two times. But Lars was born in Los Angeles, because it was my third time, and taking two toddlers on a flight would be quite a hassle.
– Did all three play sports at a young age?
Kumi: Nigel and Lars played baseball, soccer, and basketball, and Nicole mainly did volleyball. I was in the softball team during junior and senior high school and Charlie has been playing baseball for a long time. All three kids loved sports.
Mingled with Masahiro Tanaka and Others; Cried His Eyes Out When the Team Left
– There's now a lot of talk in Japan that when Japan's high school baseball all-stars visited the U.S. in 2006, the Nootbaars served as the host family for two of the players.
Kumi: That's right. They were Yu Funabashi (Waseda Jitsugyo High School) and Yuta Shiozawa (Teikyo High School). Since our kids were playing baseball, we were asked if we would like to host the players. That year, Masahiro Tanaka (future Yankee ace) and Yuki Saito engaged in a heated pitching duel at the national championship finals in Koshien stadium, and I knew about it even over here in the U.S. So, I was like, wow, those players are coming? Sure, we'd love to! And the kids were also excited about it.
The two players we had were so nice. Lars was nine at the time, and they really took good care of him. Word got to the team that there was a boy who was crazy about baseball, and they let him come to practice. All the members were friendly and cheerful and kind to Lars. So just as I thought, he cried his eyes out when they left, wailing, "Please come again," "Thank you for your kindness" (laughs). From then on, he was completely influenced by "Japanese high school baseball players."
– Could you give us an example?
Kumi: You know the brim of the baseball cap? At the time, it was popular among the Japanese high-schoolers to fold it into an arch, and then I realized Lars was mimicking the style…… I guess being around the players was a considerable experience for him.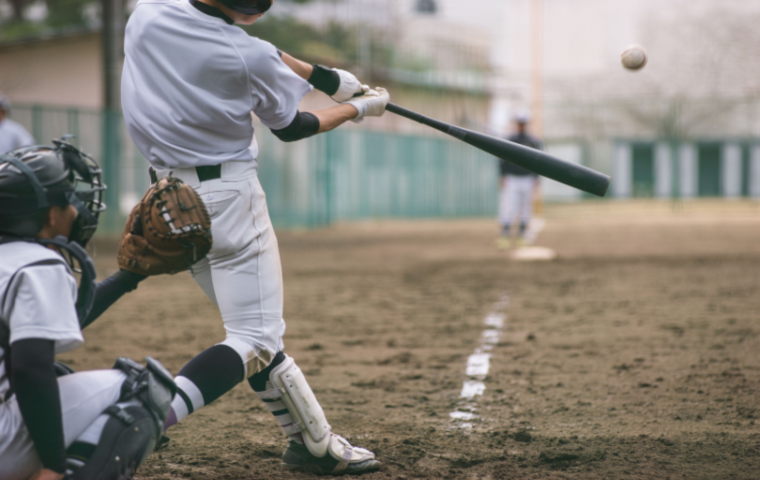 Ten-Year-Old Lars Declares, "I'm Gonna Represent My Country, Japan"
– What a coincidence. A boy crazy about baseball grows up to become a Major League player, then……
Kumi: It really is destiny. In fact, there's a sequel to that.
A year after Funabashi-kun and other national team members returned to Japan, Lars, now 10, was chosen for the Little League all-star team. So, they took a video of each member introducing themselves. I was wondering what he would say. He first said, "Konnichiwa" in Japanese, then said, "My name is Lars Nootbaar, No.21. And I'm Japanese," "'I'm gonna represent my country, Japan." This was without any advance arrangements.
When saying, "I'm Japanese," he looked serious. And as he said, "I'm gonna represent my country, Japan," he touched the arched brim with a bashful smile. So, did he really mean it, or was it a joke? …… I'm not sure what he intended by saying that.
– Declaring to "represent Japan" at age 10! This makes his joining Team Japan seem like an even more strange coincidence. It shows what a favorable impression the Japanese high-schoolers left on him.
Kumi: Yes. Because I was also a big fan of the Koshien tournament, I used to tell my kids about the Japanese baseball culture, saying, "You know, there's this event called Koshien……" So he must have had an admiration for such culture, and it seems Lars himself was often telling his friends that his mom was Japanese.
Also, for our three kids, I used to prepare Japanese-style "homemade bento box" such as onigiri (rice balls) for school lunch. Since most kids in the U.S. bring simple meals like peanut butter sandwiches, it attracted attention, with people asking, "What's this?!" So it could be that he gradually grew fond of Japanese culture.
Lars Shouting, "What're You Doing?" in Japanese
– I see. We're beginning to get an idea of Lars' background.
Kumi: Oh, yes. I just remembered. Once, I heard Lars talking to his friend, probably when he was a grade-schooler. The friend said, "Kumi is Japanese, so you can speak Japanese, can't you?" And Lars replied, "Sure," with a smug grin. I thought, "Give me a break. You can't speak Japanese." But he was teaching the friend words like "unchi (poop)" and "oshikko (pee)" (laughs). And since the friend didn't know the meaning, he said, "Wow! So you really can speak basic Japanese." Lars has always been a class clown like that.
– Such a cute episode. Does he speak Japanese now?
Kumi: Actually, no. Nigel was mainly speaking Japanese until pre-school, but when he starts attending school, English will naturally be the main language, and then the siblings start talking in English among themselves…… But while parenting, I couldn't help saying in Japanese, "Nani-yatten-no! (What're you doing!)" when I'm telling them off, so he probably knows words like that. So, when I make some mistake, he's now telling me, "Mama, nani-yatten-no!"
"Do You Remember That Boy, Lars?" "Sure!"
– By the way, are you still in touch with Funabashi-san and Shiozawa-san that your family hosted?
Kumi: Of course. We exchange Christmas cards every year and send e-mails. But last year, it was more than the seasonal greetings. Funabashi-kun contacted me, saying, "Lars really has something big coming up," and "Yuki Saito, who's usually cool, is really excited." That was when no official decisions had been made about Lars joining Team Japan, so I was like "Yea, it sounds like it," and didn't say anything in particular.
What's more, I heard that when Funabashi-kun contacted the all-Japan high-schoolers at the time through a LINE message, saying, "Remember that boy, Lars? He could be joining the Japan national team," they all said, "Sure, we remember!" I was especially happy to hear that. So, it's really strange. Getting involved with Japan's all-star high school players back then, and the 10-year-old Lars introducing himself as a Japanese. When I think everything may have been connected……
Continues in #2
This is a translation of the Japanese article published on January 18, 2023 on the Number Web.
Lars Taylor-Tatsuji Nootbaar is St. Louis Cardinals outfielder, age 25, bats left, throws right, 190 cm (6' 3"), 95 kg (210 lb), born on September 8, 1997 in California. He joined the Cardinals from the University of Southern California after the team selected him in the eighth round of the 2018 MLB draft. He debuted in the major leagues in 2021. His maternal grandfather is the namesake of his middle name, Tatsuji.