"Noot" Calls in Stadium: Darvish Praises Nootbaar, Playing on Foreign Soil Like a Breeze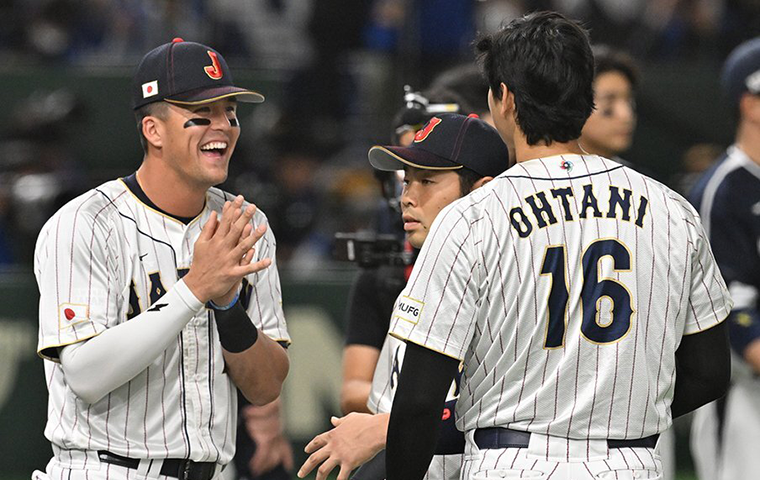 "Gambarimasu!" (I'll do my best).
At the mixed zone interview, Lars Nootbaar, the hero behind the 13-4 sweeping victory over South Korea, gleefully said in Japanese about the next game with the Czech Republic. His baseball pants were smudged reddish-brown all down his left knee—the badge of honor for all the batting, running, and sliding across the field that day.
Nootbaar's Pregame Speech to Teammates
That day, he led the team as the "shadow shogun." As the team formed a circle before the game, he stepped forward as the caller, dropped to one knee, and said, "We've got six games left, as brothers and as a family. Last night, first game nerves are over with. Today, we're gonna play loose, and we're gonna play free!"
To finish off, gesturing with open palms, he shouted in Japanese; "Gambarimasu! Sa, iko!!" (We'll do our best! Now, let's go!!)
The "kyodai" (brothers) responded with yells, minds united for the big game.
He had taken over the role from Munetaka Murakami, who made the pregame call a day before for the match against China.
Nootbaar said that his role was decided in advance, but instead of overthinking, he simply said what came to his mind.
He said that "kyodai" (brothers) was his favorite Japanese word he learned after coming to Tokyo. Until he arrived a week ago, he had never talked to his teammates. He was touched by the way they immediately took him in—"as brothers, as a family." The words express his gratitude toward the bonds formed in his motherland.
In Fielding, at Bat, Base-Running……Shot a Glare When Hit by a Pitch
The game starts rolling in the third inning. Helped by an error, South Korea was leading 3-0. In the bottom of that inning, lead-off Sosuke Genda and the next batter earned consecutive walks, with runners on first and second, no outs. Next up, Nootbaar tries to bunt the first pitch to stir up the starting pitcher Kwang-hyun Kim, who was having trouble controlling the ball. He assesses the following four sliders. On a full count, he swung the sixth pitch, and sent the ball between the short and second.
Hitting this counteroffensive RBI single, Nootbaar swung down his right fist and gave out a yell on first base. He was so excited that the household pepper grinder celebration was a single grind, as if crushing the mill. He eyed the bench where his teammates were also grinding pepper and thrusting fists in the air.
In the fifth inning, with Japan one point ahead, he showed a spectacular fielding. With one out and one on first base, he dived to catch Ha-seong Kim's shallow fly in front of center field. On this spectacular play that quenched South Korea's offense, Nootbaar commented coolly, "Since all the pitchers were working hard, I wanted to catch every ball that came near me to help them."
Yet, he showed a burst of excitement in the bottom of that inning. When the first batter, Kensuke Kondo, hit a homer to the center, he threw his fist in the air in a frenzy. In offense, Kondo plays a key role as the second batter in between the lead-off Nootbaar and third batter Ohtani. In defense, he is Nootbaar's buddy, playing right-center field together. "We really wanted that shot. It changed the tide and gave us momentum, so I was really excited." In a broad smile, he was delighted with his teammate's performance.
He showed an enraged expression in the sixth inning, his fourth at-bat. As South Korea came up two points behind, Japan needed to extend its lead. Nootbaar was at the plate with runners on first and third, no outs. The second pitch by South Korea's fifth pitcher Kim Yun Shik plunked him in the back. Throwing his bat, Nootbaar strode to first base, glaring at the lefty pitcher. In a battle, the usually mild 25-year-old kept his fighting spirit high. Ignited by his attitude, Japan scored game-deciding five runs in this inning, with Ohtani and Yoshida hitting RBI singles.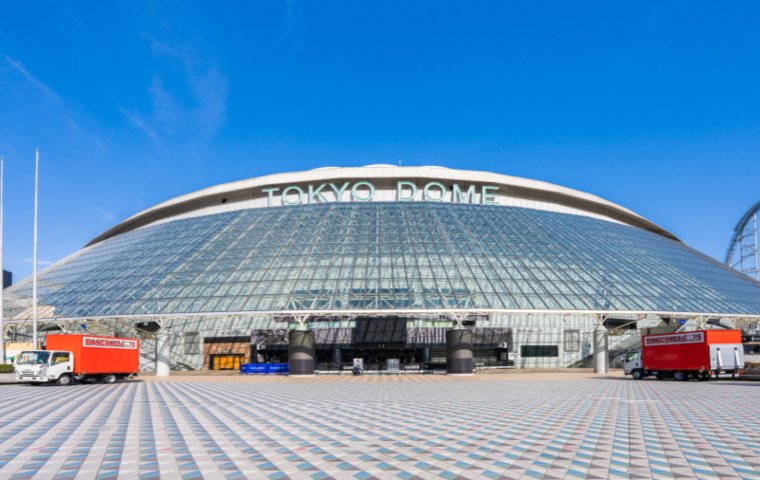 Singing the National Anthem and Bowing to the Fans
At this match, each time Nootbaar appeared at the plate, the "Noooooo!" chants by the crowd got increasingly louder with every inning. Just a few weeks ago, even baseball fans knew little about him. Now, his presence is growing by the day because the more fans get to know him—how more than anyone else, he expresses the fighting spirit and works for the team and victory—the more they want to root for him.
While being extremely expressive, he is also willing to blend in with the Japanese customs and culture. During the national anthem before the game, Nootbaar was the most earnest singer among the members, having learned the lyrics from his mother, Kumiko. When switching to defense after a great batting performance, he responds to the cheering crowds by removing his cap and giving deep bows in all directions. At the hero interview, where he received the biggest "Nooing" of the day, he thrust his right fist in the air and shouted in Japanese, "Nippon daisuki desu! Minna arigato!" and was greeted with a loud applause.
Darvish and Yamakawa Mention Nootbaar's Greatness
His teammates are also impressed with this samurai who has flown in from the U.S. Yu Darvish, Japan's starting pitcher of this game, commented about his thoughts on Nootbaar.
"It's difficult to play on foreign soil, but he doesn't show that at all, and you can see and feel that he's willing to jump right into this country and this team. So, I think he is also giving us a lot of courage and strength."
Darvish himself has roots in both Iran and Japan, while currently playing in the U.S. Because he knows the challenges of cultural differences, he is aware of Nootbaar's grit, pulling through the barriers with ease with an open mind.
Nicknamed "Tacchan," Nootbaar is not only straightforward but also cheerful, never lacking humor. He has friendly talks with his teammates in the locker room and over meals, with occasional jokes. During the March 9 practice before the game against China, he requested Hotaka Yamakawa as he just finished free batting, to teach him the sumo inspired "Dosukoi" celebration. He tried to mimic it by standing with his arms and legs outstretched, but his palms were facing inward, making it look like a Bon Festival dance. Yamakawa burst out laughing, saying, "No, that's not right!"
Kondo says, "With his hustle play and communication, he's having a good influence on us, giving the team a boost. I feel his presence is really benefiting the team." There are five more games to reach the world championship Japan aims for. The loveable shadow shogun's heart is contributing to passionately integrate the team of strong personalities.
This is a translation of the Japanese article posted on March 11, 2023 on the Number Web.