Helpful Customer at Biker Café: Interview with Kawasaki Motors Japan President Eiko Kirino (#1)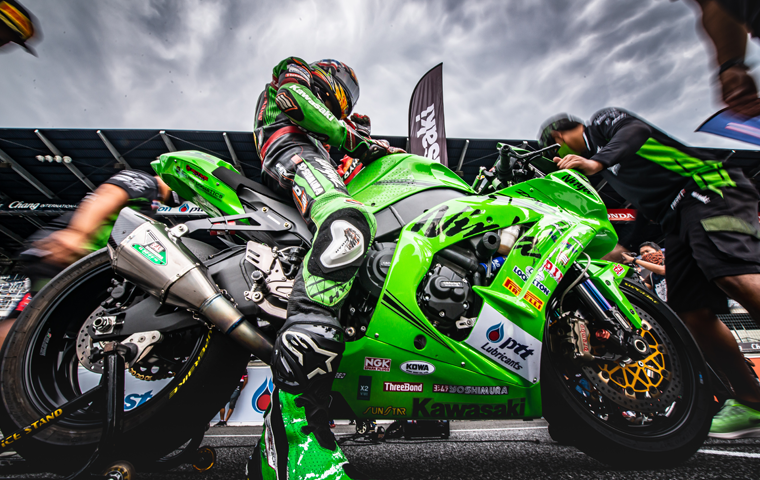 In November 2018, at Nishinomiya City, Hyogo Prefecture, the biker café In the Sea held an event called "Kawasaki Festival."
The event was a huge success, and seeing the owner with her hands full, a female customer offered to help. She instantly grasped the whole situation and briskly handled the orders. When the owner asked, "Are you in the business?" she laughed and said, "I'm just an OL (office lady)." Years later, the café owner discovers that the woman was Eiko Kirino, who became the president of Kawasaki Motors Japan.
In October 2022, this episode was posted on Twitter with the Japanese hashtag of "#AmazingCustomerIMet" and went wildly viral. We interviewed this "Amazing Customer," i.e., Eiko Kirino and asked why she ended up helping the café and how things were that day.
The Tweet with over 55,000 Likes
– It was in 2018 that you offered help at the biker café In the Sea. With an episode from four years ago suddenly gaining attention, how are the people around you reacting?
Kirino: First, I don't have a Twitter account and I don't look at it. So, I had no way of knowing about this going viral, and I'm just totally surprised, like, "Why are they talking about this now?!"
A person who bought the 2015 model Ninja H2 at the dealer near my house informed me. It was someone I got to know through the dealer, and he sent me a message, saying, "I guess you already know, but…… " with a link to the Twitter post. When I opened the link, I was like, "Holy cow!"
That person also came to the café four years ago on his Ninja H2.
– So, it wasn't like you were in a meeting at the office, and your secretary comes up to you and whispers, "Excuse me, Ms. President, but this Twitter post is going viral…"
Kirino: No, it wasn't. I was told by a Kawasaki user. Precisely speaking, the person first texted me via Messenger, and the following day, Mai-san, the owner of In the Sea, contacted me saying, "I'm sorry my Twitter post has gone viral," "It may be too late, but if there's any inconvenience, I'll delete the post."
So, I discussed it with our PR personnel and replied, "There's no problem with us. We are in no position to criticize something Mai-san posted on your own accord, and it is fine with us."
– Excuse me for saying, but you've gained considerable publicity with this.
Kirino: It turned out to be so. But it did occur to me that I don't want people to think I asked Mai-san to post it on Twitter (laughs).
– There's also this image that when corporate episodes go viral, it's usually for some misconduct.
Kirino: That's right. So, I was glad it wasn't something bad (laughs).
Told by Biker Café Owner: "We're Doing a Kawasaki Festival"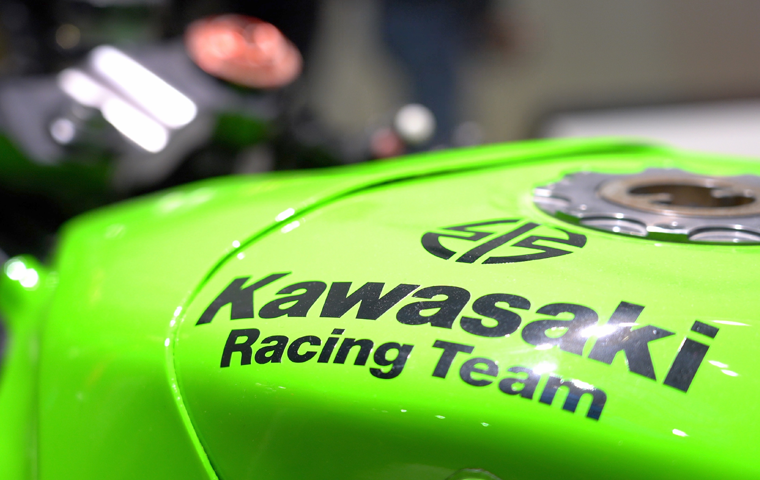 – Could you tell us a bit more about the event four years ago? How many people from the company accompanied you that day?
Kirino: It was just me, on my time off. I've been going to In the Sea for some time on my motorbike. I wanted to go there because bikers often mentioned the café on Facebook. After several visits on my machine, Mai-san told me, "We'll be doing a Kawasaki Festival," so I said, "Sure, I'm coming," and joined the event.
– So, you were a regular at the café?
Kirino: Not really. I've been going for less than a year. You don't find that many bike cafés, and it's tough if there's no parking lot. Even if you find a nice café in town, you can't easily park your motorbike.
I often went touring, so I searched on Facebook for places where bikers go or that have parking space. That's how I found In the Sea, and thought it was a nice place to go.
The Place Became Packed and Almost Chaotic……
– On the day of the event, around what time did you go to the café?
Kirino: I don't remember exactly, but I think the Kawasaki Festival was scheduled from around 15:00, so I must have arrived about an hour earlier. The event was a bike meet for Kawasaki owners. Customers just kept arriving.
I was examining people's motorcycles, wondering how they customize their machines and looking at their stickers. At first, I was going around, asking, "How did you make this sticker?" and things like that. But the number of customers became more than what Mai-san could handle on her own.
It was good to see so many people coming, but the café needs to provide service, so I felt, "Mai-san, you have to get to business!"
– So, it was quite a chaotic situation.
Kirino: The place had a counter for 10 or so people and three tables. Moreover, it was just after a typhoon hit the cafe and the kitchen appliances were out of order. Lots of customers came, but that was the situation.
The atmosphere was friendly throughout the event. Rows of motorcycles could be parked in front of the café, and the customers made space for each other, and those who couldn't get inside were chatting outside.
I'd seen Mai-san working hard to create a new alcohol-free cocktail for this event. She wanted to make a beverage in lime-green, Kawasaki's main color, adjusting the amount of syrup to get the right tone, trying various things. So, if she got too busy, she wouldn't be able to properly serve the special drink she prepared for this day, and I thought that's too sad, and it wouldn't lead to sales for the café. So, I said, "Let me lend a hand."
"I Only Remember It Was So Busy—Frantically Washing the Dishes"
– Where did you start off?
Kirino: I said, "I'll do the glasses," and did the washing-up. They keep piling up, so you just have to wash them. Then, when that was settled, I handled the checks and the orders. When the customers paid cash, I would ask Mai-san, "Where do I put the money?" and give the change.
– According to Mai-san, you "instantly grasped the whole situation and briskly handled the orders." Did you have any experience in customer service or restaurants?
Kirino: Not at restaurants, but I've done a part-time job at the liquor section on the basement floor of Tamagawa Takashimaya, so in terms of customer service, I've done sales at a department store, but have zero experience at restaurants. Therefore, I can't make alcohol-free cocktails, and anyway, it's a piece created by Mai-san. That's how I helped for about two hours, I guess. I only remember it was so busy. I was frantically washing the dishes (laughs).
– Have you been to In the Sea after that?
Kirino: I think I went twice, but since I became the president of Kawasaki Motors Japan (KMJ) in 2021, I haven't had a chance to go.
– When Mai-san asked, "Are you in the business?" you answered, "I'm just an OL (office lady)," and walked off.
Kirino: What on earth is OL? (laughs). I meant a person doing desk work, but later thought it wasn't very appropriate. Besides, the term OL is now outlandish.
The following year, on July 28, 2019, the Suzuka 8 Hours endurance race was held and aired on TV. Mai-san saw me on the broadcast, and realized I worked for Kawasaki. Then, I became the KMJ president, so she must have been surprised.
When the café held the event, I was the Marketing Department Senior Manager at the Motorcycle & Engine Company. Actually, people are pleased when I reveal that I work for a manufacturer, Kawasaki Heavy Industries. But then, the conversation will lean in that direction, like "What kind of new model will be released next?" Although I would appreciate their interest, I thought Mai-san and the customers should be the center of focus that day.
This is a translation of the Japanese article published on Bunshun Online on January 6, 2023.