The Amazing Breakthrough of Nootbaar, 25, Who Was a Lackluster Minor Leaguer
Lars Nootbaar is for real.
Media coverage of Nootbaar mostly focuses on his connections with Japan. However, I was more curious about how good he was as a player, rapidly advancing his career in a fine organization like the St. Louis Cardinals.
Because, to tell the truth, for Samurai Japan's center fielder, I had thought Yasutaka Shiomi (although he was on the injury list) or Koji Chikamoto would be a good choice.
Yet, as the World Baseball Classic (WBC) began, and I saw Nootbaar play before my eyes against China and South Korea, I felt he had the potential to build a solid career in the MLB. His bold fielding has enthralled baseball fans.
A Minor Leaguer with Seven Home Runs in 341 at-Bats
Few imagined such spectacular performance when he was drafted by the Cardinals in 2018. Even after he began playing in the Minor Leagues, he showed little potential.
Nootbaar played at A and AA teams in the Minor League in 2019, with only seven homers in 341 at-bats. At this level, his future prospects were grim.
Yet, in 2022 in the big league, he has hit 14 homers in 290 at-bats. In just three years, Nootbaar has made a transformation.
The secret behind this was the COVID pandemic.
COVID-19 broke out in 2020, and uncertainties filled the future of the sports world. In March that year, Nootbaar turned to Driveline, an intensive training facility.
The Training Method That Made Nootbaar a Changed Man
Details on Driveline Baseball are described in The MVP Machine by Ben Lindbergh and Travis Sawchik (Basic Books). Through the highly reputed motion capture assessments, Driveline thoroughly reveals the player's weak points and provides training instructions and the formula for technical improvement.
It was Trevor Bauer, 2020 Cy Young Award winner, that made Driveline famous (though Dodgers released him due to various problems). Shohei Ohtani is also said to have made a breakthrough in 2021 by Driveline training. For warm-up, he throws various colored balls weighing from 100 g to 2 kg against the fence. This routine using Plyo balls is a method created by Driveline that prevents injuries and increases ball speed.
Nootbaar began training at Driveline in March 2020. A report on its website details how he increased his average bat speed by 8 mph (about 12.8 km/h) in a short period of time.
https://www.drivelinebaseball.com/2022/04/st-louis-cardinals-how-lars-nootbaaradded-8-mph-of-bat-speed/
The report includes a valuable record of Nootbaar during his Minor League days.
Driveline emphasizes the following three points for batting reform:
Bat speed
Smash factor (contact efficiency metric derived from bat speed and exit velocity)
Swing decision (identifying the ball)
Although baseball is not a bat speed competition, by successfully incorporating these factors and mastering the skills, Nootbaar became a changed man.
Beat Reporter: "His Growth Outpaced the Cardinals' Expectations"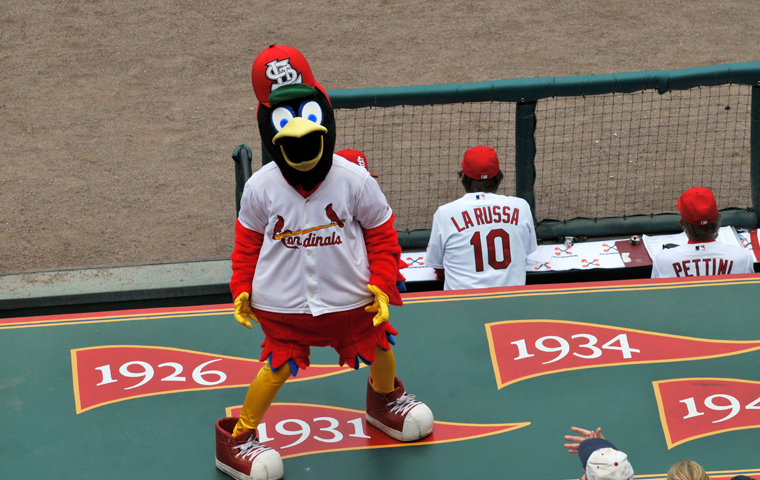 Although the 2020 Minor League season was canceled, Nootbaar made a strong showing in the spring training and played at a Class AAA Memphis club. In 35 games, he batted .308 with six homers and was promoted to the Major League. Of course, there was the COVID situation, but his rise to the top league despite so few plate appearances in the Minor League caused a buzz among baseball bloggers. He earned a regular spot by the summer of 2022. The Cardinals' beat reporter wrote that Nootbaar not only accomplished each assignment given by the team but also advanced at a pace far exceeding the prestigious team's expectations.
In the 2022 season, he only batted .228, but had a good on-base percentage (OBP) of .340. This shows his great plate discipline, having a good batting eye with 51 walks against 71 strikeouts.
Originally recognized for his good batting eye, Nootbaar has now combined the hitting power boosted by Driveline training.
His work-ethic and passion for the game have also contributed to his rapid advancement.
These are exactly the values that the Cardinals have treasured.
The team has produced many talents including Stan Musial (at Cardinals 1941-1963) with 3,630 career hits (MLB all-time fourth), former Yankees manager Joe Torre, the Most Stolen Bases title holder Lou Brock, and Ozzie Smith nicknamed "the Wizard of Oz." The Cardinals' players are traditionally known for their highly intelligent play style.
Nootbaar plays in a way suited to the orthodox Cardinals style that emphasizes defense and base running than other teams.
In just two WBC games, he made two great catches. At the end of the seventh inning in the game against South Korea, he hit a single to the right and before the ball was returned, he stole second base with an aggressive run.
I was impressed by his series of outstanding performances, which truly embodied "The Cardinal Way."
"He Deserves More Attention Than Just His Japanese Heritage"
This makes us have high expectations for his regular season. Playing as a regular outfielder for the first time, 2023 will be an important season for him. American media are guessing he will play left or right field and be the sixth in the batting order.
With further improvements in his performance this season, he will undoubtedly become one of Cardinals' core players in the medium term.
As for the WBC, if Japan can advance to the quarterfinals and then to the U.S. rounds, Nootbaar's presence may become even more significant. At any rate, it is remarkable how he has seized the hearts of the baseball fans with just two games.
At his every plate appearance at the Tokyo Dome, the rumbling-like "Nooooooot!" call could be heard, and he did not disappoint.
Nootbaar deserves more attention than just his Japanese heritage.
He is a valuable player who has received proper training at the cutting-edge facility of Driveline, and can demonstrate the orderly baseball of the Cardinals.
I am really looking forward to Nootbaar's growth trajectory.
This is a translation of the Japanese article published on March 12, 2023 on the Number Web.