"I Ride All the New Models": Interview with Kawasaki Motors Japan President Eiko Kirino (#2)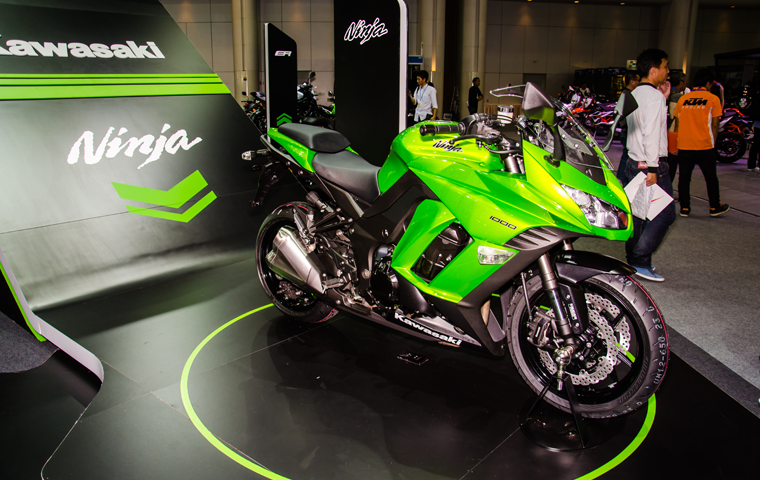 We interviewed this "Amazing Customer," i.e., Eiko Kirino about her career that led to the president, and why the motorcycle brand is called "Macho Kawasaki."
Grew Up Being Told "Girls Are Merchandise"
– You studied Persian at the Tokyo University of Foreign Studies, which seems quite a rare subject.
Kirino: There's a great reason for that (laughs). I'm from Sapporo in Hokkaido Prefecture, and my mother was absolutely against my going to Tokyo. She said there's Hokkaido University nearby, so I should go there. Since I liked cars and motorcycles, she said, "I'll buy you any vehicle you like, so just go to Hokkaido University."
So, I devised a plan to find something I can't study in Hokkaido, a subject that's only available in Tokyo. If I present that to my mother, I thought she had no choice but to allow me to go. And I searched for a major that's only available in Tokyo.
I don't know how it is now, but back then, Hokkaido University had an Arabic major. But they didn't have Persian. Among the majors only available at the Tokyo University of Foreign Studies, there were also Urdu and Mongolian. But Persian seemed to have mystique. It was also the language of where civilization began.
– What was your strongest motivation for going to Tokyo?
Kirino: My mother was very strict and didn't let me play freely at all. From a young age, I always obeyed what she said. I grew up being told, "Girls are merchandise," so I guess my current way of life is a rebound.
– It seems rather surprising that such a mother would buy you a car.
Kirino: We're in Hokkaido, so in winter, you can't go around on a bicycle. But she wouldn't allow me to ride a motorcycle. When I joined Kawasaki Heavy Industries and tried to get a helicopter license, she was in a frenzy. The Gifu plant made this helicopter, the BK117, and I wanted to fly it and tried to get a license. But I found out it was going to be very costly, so I asked my mother to lend me money. She said, "Definitely not!" and I had to give it up.
But she didn't interfere with my love for vehicles. I was a kid who loved collecting supercar cards instead of dolls or stuffed animals. My favorite was the Lamborghini 400 GT. When the Countach LP500 came out, I was all excited, saying, "It's suddenly up 100 horsepower!" I also dreamed that when I grow up and earn my own money, I'm definitely going to buy and ride a Toyota Celica.
Encounter with the GPX250R through Staff Recommendation
– Achieving your long-cherished ambition of going to Tokyo, did you immediately get a bike or a car?
Kirino: I got my driving license at 18, and the motorcycle license at 20. Then, in my sophomore or junior year, I bought the twin-cylinder Kawasaki GPX250R with the money I earned working part-time at Tamagawa Takashimaya. At first, I was planning to buy an entirely different model, but the staff recommended this one.
Before I started riding my motorcycle, I joined various circles, but none of them appealed to me. I was searching for something to do, and thought I'd get a motorcycle license during university when I had the time. When I got the license, I bought a motorcycle. I had great fun riding around every day by myself.
– When you went to buy your machine, which model were you looking to buy?
Kirino: Actually, I was planning to buy one from a different brand; a four-cylinder 400 cc in white. But the staff at the dealer said, "If you just got your license, there's no way you can ride a 400 cc. Why don't you buy this one?" So, I got a black GPX250R. Though a while later, I got the heavy motorcycle license.
Joined Kawasaki Heavy Industries Aiming for Social Contribution
– So, riding a motorcycle made you want to find a job in a related industry?
Kirino: No, I had no such intention. Although I didn't study abroad, being a Persian major, I traveled to Iran two or three times while I was a student. On my way back, I traveled to Turkey with a plan to visit various places by taking the local bus. There, a polite Turkish man came up to me and asked, "Where are you going?" As we talked, he said, "Go and see the bridges over the Bosporus Strait," "A British company built the first one. The second is by a Japanese company." So, I went to see them and was overwhelmed. The size and length were surely great, but the bridges connecting Europe and Asia, I thought that was incredible.
Seeing the bridges made me want to do socially contributing work. Building bridges at challenging locations, providing drinking water where no potable water is available…… I wanted to do those kinds of work and applied for a position at Kawasaki Heavy Industries and was assigned to sales at the motorcycle department (laughs).
– Did you also apply for jobs at other companies?
Kirino: Since I also loved cars, I was attracted to automakers as well and requested one manufacturer to send me application materials, but they never came. I thought. "So, they're not hiring women. What the heck." Thinking that unless you are really welcome, it would be tough even if I did get hired and gave up on that company early on.
On the other hand, Kawasaki Heavy Industries sent me the application material right away, and an alumnus of my university contacted me and explained to me about the company, which made me feel good.
Sales, Overseas PR, Then First Female Employee to Be Dispatched to France
– In 1991, you joined Kawasaki Heavy Industries and was assigned to the motorcycle section. Which section did you hope to go to?
Kirino: At Kawasaki, you can give three types of preferences, and at least one will be granted. First is the product, such as motorcycles, ships, or railcars. Second is the location, and third is the job category, such as sales, planning, or design. In my case, I got the preferred job category, and became the motorcycle sales personnel. But I never chose motorcycles as the preferred product.
I first worked in sales for several years, then I moved to the overseas PR section, coordinating information of new models, making catalogs, and taking photos to facilitate sales. In total, I spent about 10 years at Kawasaki Heavy Industries, then I was transferred to the dealership, Kawasaki Motors France, in 2001.
– Was the Kawasaki brand already well known in Europe at the time?
Kirino: Kawasaki was famous for winning the 24-hour endurance races, Le Mans and Bol d'Or. Also, people recognized Kawasaki as the official motorcycle for the Tour de France. That's why Kawasaki was known across all generations.
Still Enjoy Touring, Even as the President
– You became hooked on motorcycles during university years, joined Kawasaki Heavy Industries and have been devoted entirely to motorcycles ever since. It sounds very fortunate. After you became Kawasaki Motors Japan President in October 2021, have you been riding your bike on your time off?
Kirino: Basically, I don't ride on my own, but go touring with my buddies. We used to go on overnight tours about three times a year. But it hasn't been so since the COVID pandemic.
With COVID-19, there's no problem riding motorcycles, but staying over with several people will involve close contact situations, so we refrained from tours, and haven't gone at all in 2022. We also couldn't match our schedules.
– I heard you go on circuits as well.
Kirino: I've never been in races, but I've run at our circuit in Kyushu and other places. But I also haven't had a chance in 2022. I'm thinking I should go, but it's up in the mountains and too cold in winter (laughs). If I'm going, it may be around March.
– Do you ride the circuit to test new machines?
Kirino: No, no. I can't test machines. But when a new model comes out, it's our product, so you want to ride it yourself before our customers buy them. So, every time a new model is launched, I try it out. It's not really work; I'm having fun riding.
But a machine loaded with new technologies is heavy, and the seat is high, so it's tough to ride. It would be terrible if I fell over. The Ninja H2 SX has a supercharged engine, so it takes courage to ride on all cylinders. The Ninja ZX-10R, which competed in the World Superbike Championship, has incredible features, and I can't use even one-tenth of the capacity.
– What's your current model?
Kirino: It's the Ninja 650.
"Woman" and "No Engineering Background" Were Never a Disadvantage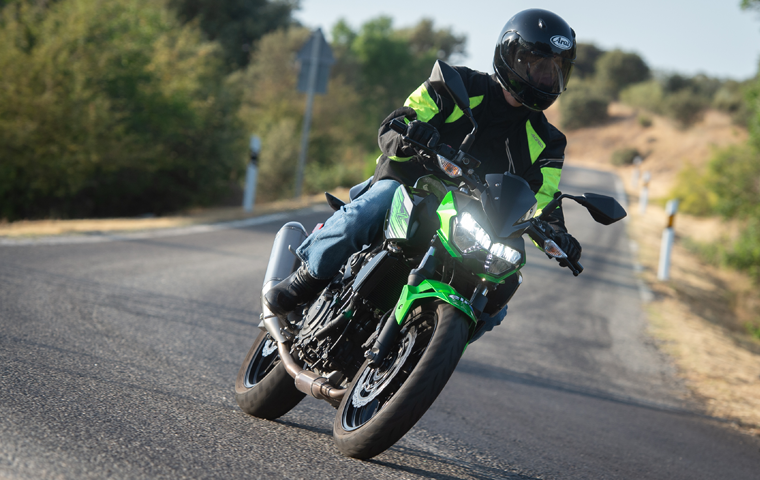 – Although you love motorcycles, as someone with a humanities degree, didn't you feel disadvantaged joining Kawasaki Heavy Industries in the engineering field?
Kirino: Not at all. Or I never thought of it. Looking back, while at university, even if you're attracted to a certain kind of job, what you really want to do is vague, and at first, you tend to work along that line.
– Have you ever served tea since joining the company?
Kirino: There was a great fuss because I was the first female career-track employee assigned to the Akashi plant. From the very start, my boss told me I didn't have to serve tea, which the clerical female staff did at the time.
Things like that have changed with the efforts of the seniors and other female employees before me.
– Motorcycle enthusiasts refer to the brand as "Otoko [Macho] Kawasaki." What's the implied nuance?
Kirino: Our motorcycles weren't very user-friendly. For example, although we had the highest maximum speed and maximum output, the machines were tough to ride for female users. And there were small things like an awkward side stand. I guess that's why people call it Macho Kawasaki. These days, there are more user-friendly features, and we have an unexpected number of female users.
– What do you think about the phrase "Macho Kawasaki"?
Kirino: I think our DNA at the root of development is like that. When developing a motorcycle within cost restraints, we need to make various decisions on what to include and what to drop. Comparing the difference in performance relative to cost, we have prioritized high output and high speed.
Now, we have carbon neutral requirements, so without compromising our DNA, we are also pursuing those technologies.
The Company Also Changed with Women's Advancement
– Your transfer to Kawasaki Motors France was the first case of dispatching a female employee overseas. For better or worse, you gain attention for being the "first-ever woman."
Kirino: To be honest, I tried not to think too much about that. When I joined the company, some buildings lacked women's toilets. That's how it was at the time, so there were cases where you stood out for being a woman.
In that situation, I sometimes wished for a normal state, but now it's entirely different. I think it's changed significantly.
– Do you take pride in having changed Kawasaki into a "normal company"?
Kirino: I don't know how those before me see it, but I think it's not me that made the change. With women advancing in the workplace, the company had to respond.
For example, when I joined the company and was assigned to the Akashi plant, there was only the men's dorm, so they had to prepare the women's dorm. Since the company was hiring women, there had to be dorms, locker rooms, and toilets for women. So, I guess it was the result of responding to the situation each time.
– Listening to your story, I feel it was inevitable that you lead a motorcycle-related career.
Kirino: But when I entered university, I had no interest in getting a job. I thought I'll find the right guy and become a housewife. I grew up being told, "Girls are merchandise," so I came to think like that.
But now, I'm like this (laughs). I'm surprised myself.
This is a translation of the Japanese article published on Bunshun Online on January 6, 2023.