Toshiba Eyes Comeback with Lightweight Film-Based Perovskite Solar Cell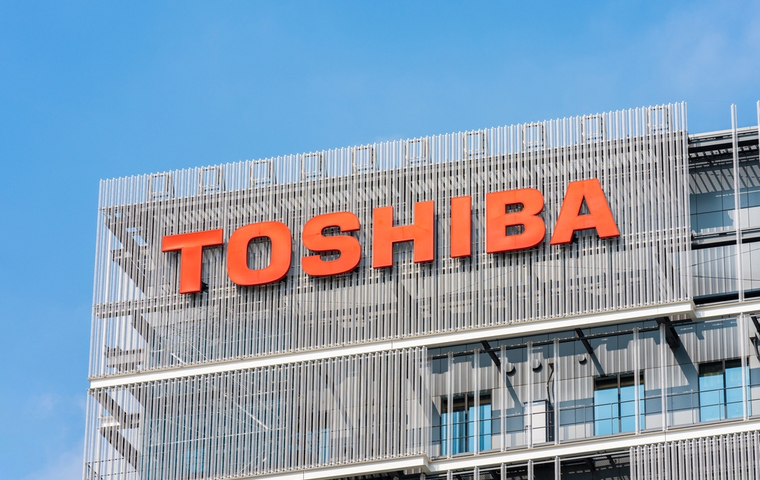 Toshiba Corporation's next-generation film-based perovskite solar cell won the Minister of Economy, Trade and Industry Award's the carbon-neutral category at Japan's IT and electronics tradeshow CEATEC 2021, held on October 19-22. Toshiba's quantum cryptography key distribution technology also won second place in the event's solutions category.
Toshiba had faced a series of crises since its accounting scandal emerged in 2015 and it recorded billions of dollars in losses linked to its U.S. nuclear subsidiary Westinghouse. The company was forced to sell off its prized semiconductor memory unit and its promising medical equipment business. However, now the company is making a comeback, armed with new technologies in the major battlegrounds of decarbonization and digital transformation.
Solar Cells That Can Turn an Entire City into a Power Plant
Toshiba claimed in September 2021 that its film-based perovskite solar cell achieved an energy conversion efficiency of 15.1%, the world's highest for a large area. The perovskite solar cell is a type of solar cell that uses a material with a crystalline structure called perovskite. Toshiba said it can achieve high conversion efficiency comparable to the widely used silicon-type solar cell. The technology was the brainchild of Tsutomu Miyasaka, a professor at Toin University of Yokohama in 2009 and a leading candidate for the Nobel Prize.
Due to the lightweight and bendable characteristics of film, the cell can be installed on the rooftops of houses and buildings in urban areas, where it has been difficult to do with the existing silicon-type solar cells because of their weight. The Japanese government is aiming to become carbon neutral by 2050 and is urgently looking to raise the ratio of renewable energy usage to achieve this. Demand for the new cell is likely to come from companies promoting renewable energy.
Toshiba's solar cell come in the form of transparent films and can be sealed onto a window from the inside, so there is no need to build a scaffolding for installation, which also reduces the cost of replacement. Since no frame is required, the disposal cost is low as well, and there is no fear of hail and debris causing cracking. Compared to conventional solar cells, the film-based cells can be installed in all sorts of buildings, so they may have the potential to turn whole cities into solar power plants.
Mass Production to Start in 2025
The main factor contributing to Toshiba's highest efficiency record is the high performance of its coating technology called meniscus printing technology, which can form a uniform and large-area coating film. The technology has been used for the company's organic electroluminescence development for more than 10 years. Toshiba improved this technology to apply it to perovskite cells. It successfully cut down the two-step coating system into one, and by doing so the coating speed increased, leading to higher efficiency.
The size of Toshiba's board is 703 square centimeters. The film solar cell developed by the Dutch solar cell consortium Solliance is 160 square centimeters. The one developed by Poland's Saule Technologies is 15.7 square centimeters. Kenji Todori, a senior expert at Toshiba's Corporate Research and Development Center is confident that the competitors "won't be able to catch up overnight with the company's technology to form an even film on a large surface."
Mass production is scheduled to start in 2025. When mass-produced, the power generation cost will be 20 yen per kilowatt-hour(kWh), which is slightly higher than the cost of current mainstream domestic silicon-type solar cell power generation (14 to 20 yen per kWh). Still, "There is a possibility that [the film-type solar cells] will be used in places where installation of the cells has been difficult. Also, the cost is high if the chemical material is produced in small numbers. It will be possible to lower the cost when it is mass-produced," said Todori.
As the cell is lightweight and relatively easy to carry, Toshiba hopes it can expand sales channels in Asia and Africa, where power grids are not widespread, and in Europe, where they are promoting energy conservation.
Perovskite solar cell is a hot new technology and companies around the world are moving fast; Saule Technologies has already set up its production line. In addition to further performance improvements, mass production speed is likely to determine the game.