Corn Prices Driven Up by China's Voracious Hog Herds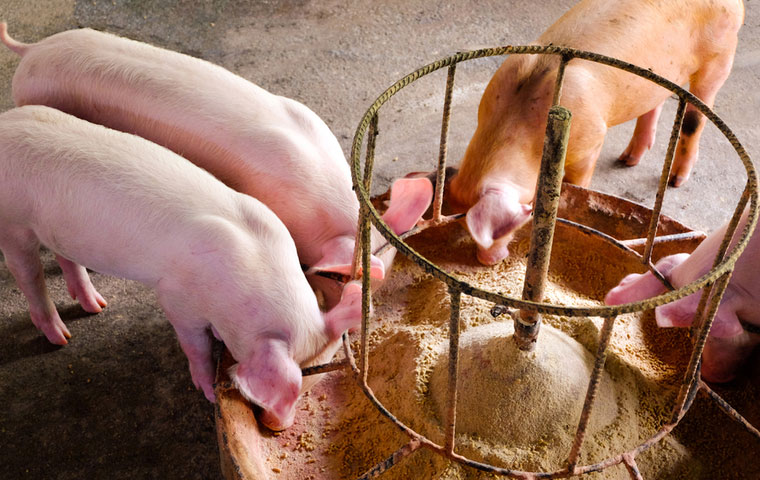 How China's Bulk-Buying Pig Producers Made Corn Prices Skyrocket
Prices of cooking oil, mayonnaise, and tofu went up in succession this July. The culprit behind the hike was soaring prices of corn and soybeans, which are raw materials of oil and fat. The key factor for the surge was the bulk-buying for Chinese pig feed. China is hog farming powerhouse, breeding over 400 million pigs that account for half of the global hog herd. In the past few years, a drastic structural change is occurring in the hog farming industry caused by the spread of swine epidemic and the Chinese government's policies.
African swine fever (ASF, formerly called African Hog Cholera), the livestock disease that emerged in August 2018 in the Liaoning Province, immediately spread across mainland China and onto neighboring Southeast Asian countries. ASF has 100% mortality for pigs. One factor that contributed to the pandemic is said to be pig feed using raw food residues that included meat and vegetables contaminated with the virus.
A year later, in 2019, many small pig farms with inadequate hygiene measures and high risk of infection went out of business, and the number of pigs in husbandry dropped from 430 million at the beginning of the year to 310 million at year end. With the closure of the farms, sows, hogs, and even piglets were put up for sale. With an increased number of slaughtered pigs, Chinese pork prices slumped in the first half of 2019.
At the time, many of the world's grain analysts expected a sharp fall in feed grain demand for pig farming from the drastic decrease in Chinese pig herds. But in fact, there was no significant downturn in Chinese grain demand, because the small pig farmers that went out of business were only feeding food residue and not grain.
"Hog Hotel" Boom
Later, with smaller hog herds, the shipment volume of pigs fell significantly, resulting in a sharp decrease in pork production in the second half of 2019. Annual shipment volume in 2020 has decreased by one-third (17.7 million tons) compared to 2018. For comparison, Japan's annual pork production is about 1.3 million tons (2020, carcass equivalent weight). This means a vast amount over 13 times of what Japan produces in a year diminished.
Following the plunge in pork supply, live pig prices in China began soaring from July 2019, and remained at historic-high levels during the 18 months until the end of 2020. The live pig price at the end of October 2019 when it marked an all-time high was 39.80 yuan/kg, about 617 yen/kg (811 yen/kg in carcass equivalent). This was unexceptionally higher than the carcass price (high grade) of 501 yen/kg in the Tokyo market around the same time.
Moreover, the Chinese government increased pork imports from the U.S. and Europe in an effort to provide pork supply for the Chinese people, causing the global meat price to skyrocket.
Helped by soaring pork prices, major pig farming companies marked excellent business performance for 2019-2020, with almost every company hitting all-time high profits. Qin Yinglin, founder and owner of Muyuan Foods Group that includes major pig breeder Henan Muyuan, was ranked among the world's 50 richest people by the Forbes magazine. Many tapped into the industry, and there was a construction boom for high-story piggeries ("hog hotels") that keeps out viruses and enables breeding more pigs on less land.
Encouraged by the Chinese government's subsidies for large-scale model farms aimed to stabilize pork supply, and financial support towards regions promoting hog farming through infrastructure projects such as hygiene and environmental measures, all the mega hog farming companies increased the number of sows for breeding. Those from other industries such as major condominium and shopping center developer and overseas food manufacturer came flocking in to enter the hog farming business.
As a result, the number of pigs in husbandry that had been decreasing in China, rose from 310 million at the beginning of 2020 to 439 million in June 2021, an increase of over 129 million in 18 months, thus recovering to the early 2019 levels before the ASF outbreak.
After hitting the ultimate peak of 36.33 yuan in the week of January 6, 2021, rising live pig prices plummeted in line with production increase, and finally hit 14.10 yuan on June 23, dipping below pre-ASF (January 2018) price levels.
Since the price fell below the level that triggers market intervention, the government began purchasing more than 20 thousand tons of pork carcass for country reserves at that time. As a result, the price decline stopped. Compared to the annual production forecast of 40.5 million tons in 2021, 20 thousand tons is a modest amount, but at least it had some impact on the market.
Acceleration Towards Mega Farming
Some may think if pork prices fall, the number of pigs in husbandry will decrease in China, and lead to less grain demand. Yet the pigs being fattened cannot be starved to death. Under current conditions, pork producers must bear losses from pig price decline, while feeding their herd with high-priced grain.
The big difference between China's current hog farming model and the past method by small farmers is grain-feeding by large companies for the additional 100 million pigs.
The domestic price of corn for pig feed has remained high in China at 1.56 times that of early 2018 level, reflecting the strong demand caused by a massive increase in the number of pigs in husbandry. Driven by speculative buying betting on Chinese bulk purchase, corn futures on the Chicago Mercantile Exchange (CME) briefly exceeded 7 USD per bushel in June for the first time in almost eight years. Even in late August, the price remained above mid-five USD levels.
Then, how would Chinese hog farming change in the medium term, and impact the feed grain demand? Here's my guess.
First, as low Chinese pork price and high feed price will continue in the future, I expect companies and small- and mid-sized farmers that entered the market in late 2020 would eventually withdraw or go out of business.
Meanwhile, the large-scale corporations that had already been in the market have secured a considerable amount of profits during the second half of 2019 to June 2021 pork price surge, and they can withstand low pork prices. Especially, since the large corporations must comply with the government's pork supply intentions regardless of costs, I expect they will make up for the production shortfalls by withdrawing participants, and sustain overall supply.
Also, since the Chinese government encourages scale expansion by hog-farming companies that are well-prepared for environmental conservation and prevention of infectious diseases, the industry will undergo further structural reform. I expect large hog-farming companies will become even bigger.
As a result, Chinese pork producer's demand for grain such as corn and soybeans will increase in the future. Once again, I am amazed at the intensity and speed of change in the Chinese hog-farming industry. The world's food supply and demand will continue to be at the mercy of this fast and dynamic transformation.
(Hiroshi Takahashi, Bridge International Inc. executive director)