The Rise of India: Most Populous Country Set for Impressive Growth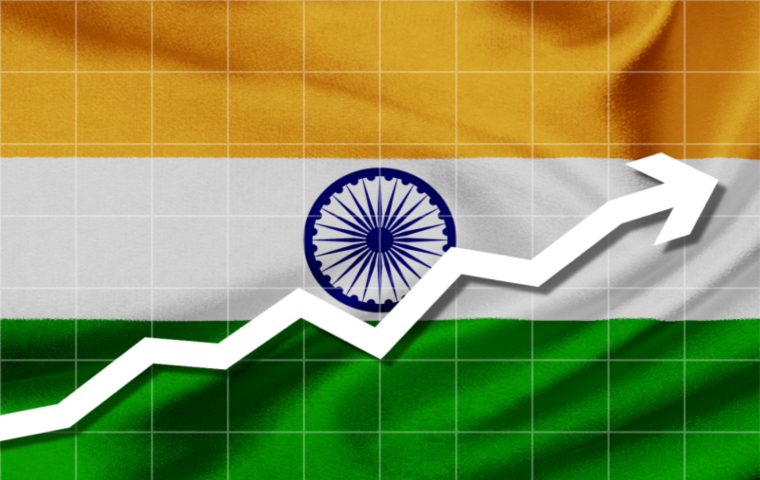 The year 2023 may mark the beginning of a major shift in the global economic framework. According to UN forecasts, India, with its rapid economic growth, will surpass China in 2023 to become the world's most populous country. In 2027, India will overtake Japan to become the third largest economy by Gross Domestic Product (GDP), while China's growth rate is expected to decrease. In place of China, which has been the driving force in the world economy by continuing a double-digit growth since 2000, India will emerge on the center stage of global development.
At the Qatar World Cup that kicked off in November 2022, the Asian and African teams put up a good fight and drew attention. Changes were also visible on the ad boards around the pitch. Besides Hisense and other Chinese consumer electronics that have become prominent in recent years, an Indian start-up was also in the sponsor lineup; BYJU'S, an online education company established in 2011.
Although unlisted, the estimated company value of BYJU'S is 22 billion USD (about 3 trillion JPY), equivalent to the market capitalization value of Japan's Panasonic Holdings Corporation. The company already operates in over 100 countries, providing service to over 150 million students. According to Bloomberg, BYJU'S offered approximately one billion USD (about 135 billion JPY) to acquire the U.S. edtech company 2U, showing an appetite for M&A.
Behind the rapid growth of BYJU'S is India's rising fervor for education. There is heated competition for admission to the top notch universities, such as the world-class Indian Institutes of Technology, with fierce rivalries starting from early childhood. Other fast-growing companies are also emerging one after another, such as Unacademy, an edtech start-up that raised an enormous investment from the SoftBank Group and others.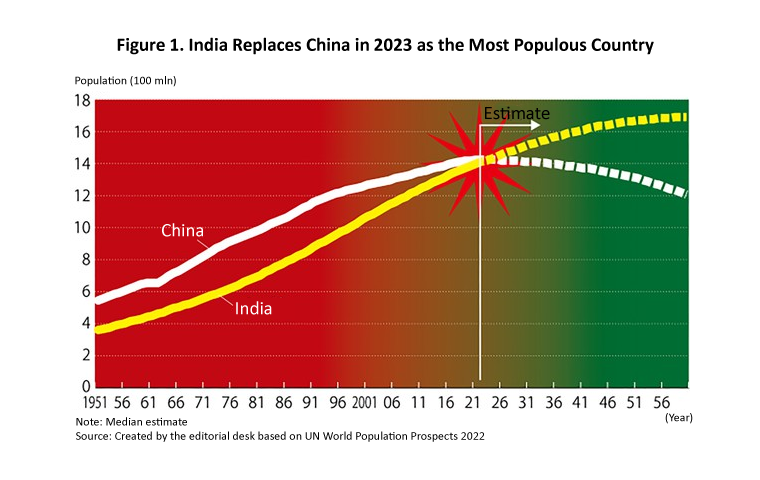 Now at over 1.4 billion, India's population has continued the upward trend behind China. But according to the UN World Population Prospects (2022) released in July 2022, India is expected to surpass China in 2023 (Figure 1). While India's population will increase to almost 1.7 billion in the 2060s, China will face a population decline from as early as 2023. This will be a major shift in the long-standing situation where China was obviously the most populous country in the world.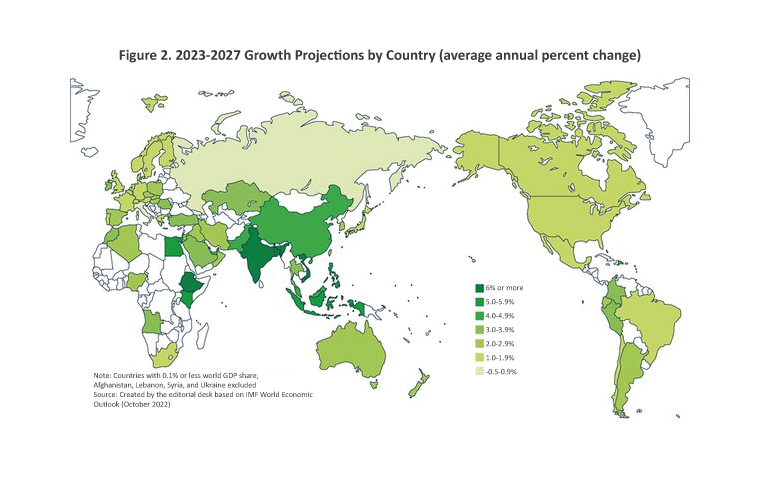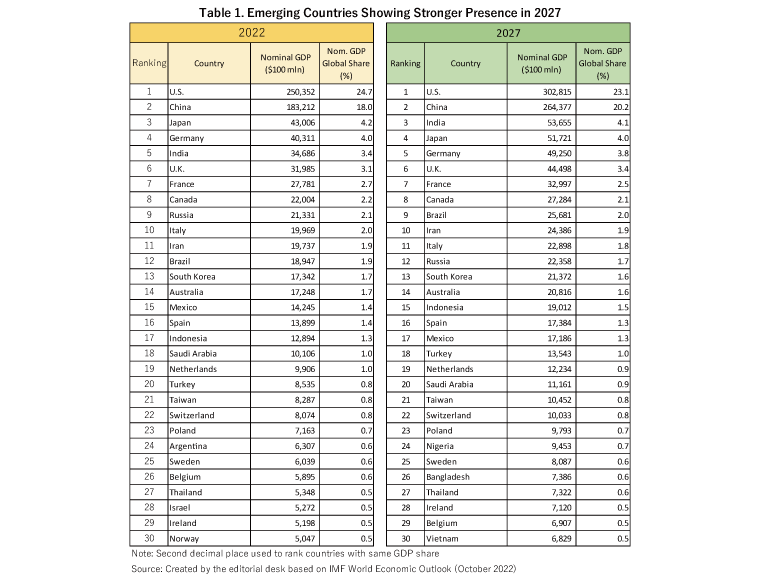 That is not all. According to the International Monetary Fund (IMF) World Economic Outlook, the Indian economy is expected to grow at an average 6.5 percent in the five years from 2023 to 2027, one of the highest among countries with a certain economic scale (Figure 2). As a result, India, with the fifth global GDP ranking in 2021, will overtake fourth-ranking Germany in 2025, and Japan in third place in 2027 (Table 1). In contrast, China's growth is expected to slow down to average 4.6 percent in the five years up to 2027.
Source of IT Strength
In the 10 years until the COVID outbreak in 2019, India had maintained an average growth rate of 6.9 percent. One sector that led the growth was IT. Google's Sundar Pichai, Microsoft's Satya Nadella…… major U.S. tech companies are headed by many Indian-origin CEOs. Tata Consultancy Services (TCS) and Infosys are major global companies in the IT system and consulting sector.
Why does India excel in the IT sector? Institute for Indian Economic Studies Director Hiroshi Sugaya says one reason is that the industry was free from the influence of India's ancient class system. Under the caste system, people were classified into detailed social groups called jāti, and occupations were maintained in association with each group. However, Sugaya says, "Talented people who realized, 'IT is a new industry, so it has no caste restrictions and will be a promising business,' came flocking."
In 1991, India switched from its previous socialist policy to a liberalized economy, establishing the base for development. Now, the Modi administration is focusing on manufacturing and semiconductor sectors. During the COVID pandemic, the country faced supply restrictions for electronic parts and hi-tech products that had depended on China. In May 2020, skirmishes with China broke out on the Sino-Indian border. Sugaya says that the administration "considered dependence on China was dangerous and began chanting 'Self-reliant India.'"
The Indian government says it will provide a subsidy of 760 billion rupees (about 1.4 trillion JPY) over the next five years to boost the semiconductor industry. Already, Taiwan's major electronics contract manufacturer Hon Hai Precision Industry has collaborated with India's natural resources conglomerate Vedanta, applying to the Indian government to build a semiconductor plant in the Gujarat state. The total investment is estimated to reach 1.54 trillion rupees (about 2.6 trillion JPY).
In October 2022, Belgium-based advanced semiconductor research organization IMEC signed a deal with the Indian government to provide technical support. IMEC provides microfabrication technology of 28 nanometers (nanometer = one billionth of a meter) and above process. Although this level is far from the state-of-the-art semiconductor products, it lays the groundwork for creating a semiconductor ecosystem (economic ecosystem) for domestic production.
Vietnam and Indonesia Also on the Rise
India is likely to be an attractive consumer market too. The per capita GDP for India is currently at the 2,000 USD level, but by 2025, it is expected to exceed 3,000 USD, a threshold said to boost the sales of durable consumer goods such as home electronics and furniture. ITOCHU Research Institute Senior Research Fellow Makoto Ishikawa, an expert on Indian economy, says, "Going forward, demand for improving the quality of life can be expected, with continued need for infrastructure development such as electricity, roads, railways, telecommunications, and water supply and sewage systems."
In 2015, China announced the end of the one-child policy, and in 2021, permitted having a third child. Yet, with factors like the high cost of education, the birth rate continues to drop. After hitting the peak of roughly 1.06 billion in 2013, the working-age population (age 15-64) is expected to decline in the future. NLI Research Institute Head Researcher Yuki Katayama, an expert on China's social security system and population issues, says, "The one-child policy that had gone on for two generations (about 40 years) is weighing on."
Without doubt, China will continue to grow into an economic power comparable to the U.S. Yet, Katayama says, "With fewer working population, economic resources such as tax revenues and social insurance premiums will dwindle, and debilitate the country." Even now, the zero-COVID policy has stagnated everyday living and economic activities, and there is simmering resentment among the people. The Chinese government was forced to review its zero-COVID policy, and the confusion continues.
In the five years until 2027, Vietnam and Bangladesh, also with an increasing population like India, will show over 6 percent average growth. Egypt and Indonesia are expected to grow by over 5 percent. In 2027, Nigeria, Bangladesh, and Vietnam are likely to replace Argentina and others in the top 30 GDP ranking. The massive wave of global structural change is closing in.
This is a translation of the Japanese article published on December 19, 2022 in the Weekly Economist Online.
(Kentaro Hamada and Shinichiro Murata, Weekly Economist Online editorial desk)