The Universal Language of Laughter—Rakugo on World Stage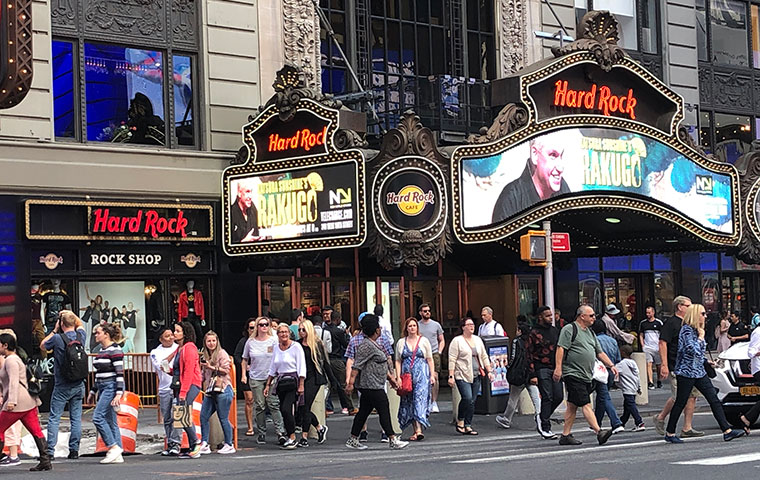 Interview with Katsura Sunshine.
(This is story #3 of a four-part series. Related stories: #1, #2, and #4.)
– On April 26, 2009 in Canada, you performed your first English Rakugo outside Japan. What made you want to perform on world stage, just a year into your apprentice? Performing overseas where people are not familiar with Rakugo must have been challenging. Could you tell us about the episodes from that time?
Sunshine: Well, 2009 is what I just told you. So it's more like in 2011, or early 2012, when my apprenticeship was finished.
Just before I began my apprenticeship, I met the former ambassador of Japan to Canada, Sadaaki Numata, and kept in touch with him. When I finished my apprenticeship, I asked if he could contact the Japanese Embassy in Ottawa and see if I could do a rakugo performance there. Two days later, the cultural attaché of the Japanese Embassy at Ottawa got in touch and said, "We heard from Numata. We would love to host you. Let's get a date," and they immediately made it happen. So I went and tried out by doing one show at the embassy. That was the start.
For the following year, I was thinking of doing a show each in Ottawa, Toronto, and Montreal, where they have consulates, and make it a little tour. Part of the embassy's job is to promote Japanese culture, so they pay for the hotels, but I had to pay my own flight to Canada and it was pretty much volunteer, but I was happy try and see what happens.
Now, Sadamoto-san, who was the head of Culture, went to the All North American Cultural Representatives and Business Representatives Conference, where all the Japanese embassies and consulates attended. After doing his presentation, he said, "By the way, in 2013, we are doing Katsura Sunshine's English Rakugo tour. Anybody who's interested, call me."
And like 20 places called. So I ended up doing this huge North American tour in 25 cities, with 35 or 40 shows. Sadamoto-san was a genius, arranging it almost overnight. So I told him, "If you want to quit the embassy, you could get a good job at Yoshimoto Kogyo as a manager."
At every city, I performed at the consulate or the embassy. They also sent me to schools to perform in front of kids, or community center libraries for people who'd never heard of rakugo, and it was great. But I started thinking, everywhere I go, people are laughing, yet the embassy and the consulate don't charge for tickets, because that's part of their mission. So it's free, and the audience are the people on the embassy list, probably very interested in Japan. So, I wanted to know, how a paying audience who didn't necessarily have any opinion about Japan would react.
So for the last show on this North American tour, I got my brother and my best buddy to reserve the Elgin and Winter Garden Theater in Toronto, which is a beautiful, beautiful, one-thousand seat theater, one of the most beautiful theaters I've ever seen in my life. You can rent it if you book early, because it doesn't have long-runs in it. So we rented it for the last show of the tour, and charged 50 dollars, around 5,000 yen.
My brother and my buddy sold every seat, and maybe only 10-20% Japanese audience. The rest were mostly people working in finance, because that's where my brother and my buddy worked. We did the show in this beautiful theater. And people were crying because they were laughing so hard. Kids were laughing, parents were laughing, grandparents were laughing, standing ovation at the end.
I thought, "Oh my god, I have to take this to Broadway. This is it!" So that was the day my dream of going to Broadway was revived. At that time, I didn't know if it would become a big hit on Broadway, but I did know if the audience come, they would enjoy it.
It's two very different things. It you want a hit on Broadway, you have to be lucky with some things, good marketing—all kinds of things that go into that. Even good shows are not necessarily good hits. But I knew at least it wouldn't be weird to do this on Broadway; that rakugo was much more than just a cute cultural Japanese comedy form that you do at the embassy. I thought, "This is a real show, and we've got to do this." So in 2013, I started immediately aiming for London and New York.
– On August 7, 2013, you were appointed the Cultural Ambassador at the Canadian Embassy.
Sunshine: Well, I was appointed the Cultural Ambassador between Canada and Japan, and the Friendship Ambassador between Slovenia and Japan. And nobody has fired me, so I think I'm still the ambassador.
– You did a three-week long-run Rakugo performance at the Leicester Square Theatre in London in September and October 2017. Then you did a three-week long-run at SoHo Playhouse in New York in November and December. How did the audience in these places react to Rakugo?
Sunshine: In London, it was mostly Japanese people on the first day. I lived in London for two years, performing in small places, so I had an audience. The number of people declined at the beginning. Then slowly, people started talking about the show, and I got a great audience towards the end of three weeks. The last four shows were sold out, with about 70-80% non-Japanese audience. At SoHo Playhouse in New York, we sold out most of the run too. It was fantastic.
The funny thing is, I was seeing off the audience after the show at the SoHo Playhouse, saying, "Thank you very much," "Arigato gozaimashita," and then someone would say, "I'm not Japanese, I'm Chinese." "Oh? Okay, xie xie." But this happened about 20 times. Why are all these Chinese people coming to see my shows?
So I asked one guy, "Is rakugo popular in China?" And he said, "No, you are popular in China." "Hey, I've never been to China before! What are you talking about?" And he said, "Oh, you don't know? You have 8 million views on Weibo. You're quite famous." And he sent me the link.
I have a five-minute routine story called "47 Different Ways to Say Thank You in Japanese." A Chinese person put Chinese subtitles on my YouTube video and posted it on Weibo. I didn't know what Weibo was at the time. But this got 8 million views, and 27 thousand comments. That was the moment I realized I really want to do rakugo in Chinese as well. I'm just starting my Chinese TikTok this week. I hope after one year, I'll be able to do a one-hour show in Chinese.
Anyway, that's a separate thing. SoHo Playhouse has gone really well. The key to New York and London is having a long-run. Three weeks was not long enough. It was a good first step, but what I really wanted to do is an open-ended run—going one year, two years, three years at the same theater.
So it took a couple of years from 2017 to 2019 at the New World stages, a beautiful theater in the middle of Broadway. That's the run I'm doing right now. After running six months, I took two years off due to COVID. All my stuff is still in the dressing room, and I'll continue my run from next month.
– You do Rakugo in French as well?
Sunshine: Yes, I did it in French a few times.
– How many countries have you performed in so far?
Sunshine: Gees. The States, U.K., Slovenia, France, four countries in Africa. obviously Japan, Singapore, Malaysia, Nepal, Sri Lanka, Australia, Hong Kong, Taiwan…I don't know, 15, 16 countries? I'm sure I'm forgetting some.
– Could you tell us episodes about the countries you were especially impressed?
Sunshine: It's not stories from the stages, but traveling is amazing. Every time I get on the plane, there's a new story.
We got on a plane to get to Ghana, and we had to transfer in Somali, I think. My seat was near the front, but I accidently got on from the rear door. So I'm trying to get past people in the aisle. It's very tight, so I say jokingly, "Excuse me, I'm too fat."
If you say that to a Japanese person, they'll say "No, no, you're not fat at all. You know, you look like Tom Cruise." Very nice. If I say to a Canadian, "I'm sorry, I'm too fat," they say, "Oh, no, no, I'm much fatter than you. But give me your e-mail and I'll send you some good recipes and good exercise programs." There was a ladies' soccer team from Ghana, wearing their university team uniform. I pass by one lady and say, "I'm sorry, I'm too fat." She looked at me and said, "Yes." Very direct.
– Thank you for the interesting episodes.
Sunshine: I actually have one episode from two weeks ago. I was going to London, and the ground staff asked me, "Do you have any fragile items in your bag?" She's very pretty, so I try to make a joke, and say, "The only thing fragile is right here, in my heart." So she took a red "fragile" sticker, and stuck it on my chest. That's hilarious. So I kept the red sticker on my chest, and got on the plane. By coincidence, the pilot came out and looked at me and said, "Don't worry, we'll take very good care of you. We'll make sure you get to your destination."
– Which airline was that?
Sunshine: ANA (All Nippon Airlines). Amazing.
(Continues in #4)