Why Chinese EVs Will Become People's Cars in Just Five Years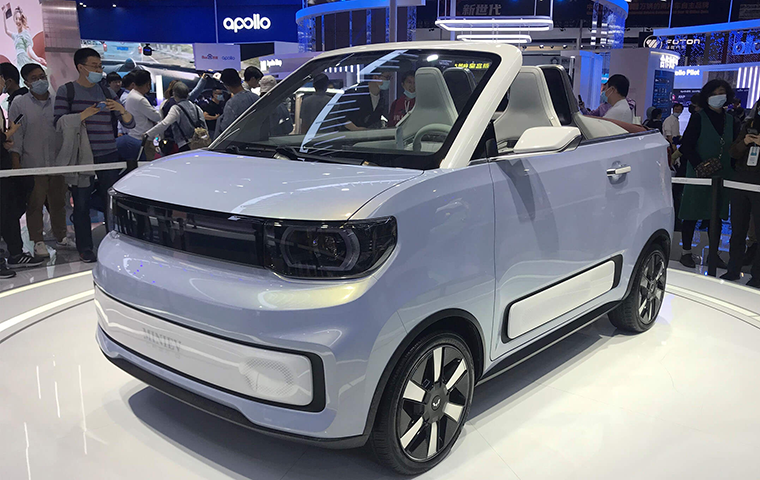 As China Dominates, EV Market Shifts from Price Polarization to Economy Cars from 2025
In 2020, the tides changed in China's electric vehicle (EV) market. Until then, most of the EVs in China were internal combustion car models by automakers changed to suit EV specifications. But since the major U.S. EV manufacturer Tesla began operating the huge Gigafactory 3 in Shanghai with maximum production capacity of 500,000 units per year, Tesla Model 3 from the factory topped 2020 EV sales, outstripping local Chinese brands.
Chinese start-up manufacturers NIO and Li Auto followed Tesla, and caused a boom for medium and large luxury EVs in China's big cities.
Meanwhile, sales of low-price EVs increased in regional cities and rural areas. SAIC-GM-Wuling Automobile launched Wuling Hongguang MINI in 2020 at 28,800 yuan (about 490.000 yen) and caused a price disruption, and low-price compact EVs became a new trend.
Wuling Hongguang MINI is a 2.9-meters long and 1.5-meters wide compact four-seater, with a cruising distance of 120 kilometers (low grade), and can be charged from a household outlet. Protective gear is kept to a minimum, and the air-conditioner is optional. For consumers who cannot afford standard cars, and have been using cheap and simple vehicles as a means of transportation, low-price EVs became a new option. Wuling Hongguang MINI has expanded its lineup, including convertibles and models for women.
Cultivating the Largest Market Segment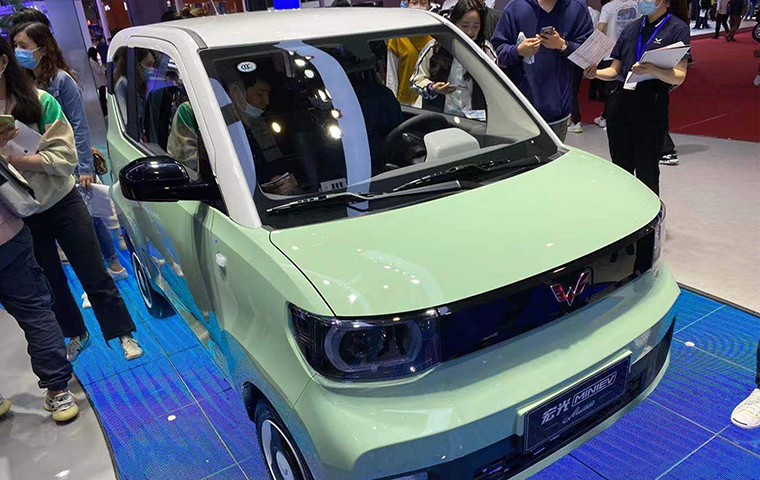 Sales of EVs and other new energy vehicles (NEV) have shot up from 12,000 units in 2012 to 1.206 million units during the first half of 2021, and is estimated to reach 2.4 million for the whole year. In particular, Wuling Hongguang MINI tops the sales at 157,939 units, almost double that of Tesla Model 3 in second place (84,845 units). EV prices are becoming polarized in China, and demand for low-price EVs under one million yen is expected to increase in regional cities and rural areas, while sales of high-end EVs priced over 3.5 million yen will increase in the big cities.
EV unit sales have increased in the high and low ends, but in the mid-price range (retail price of about 1.5 to 3.5 million yen) which is the largest market segment (economy cars) accounting for half of the new car market in China, gasoline-powered car sales are still strong. EVs that increased sales in this price rage may lose their market share to gasoline-powered cars.
When we look at the EV market by retail price, the ratio of mid-price range fell from 34% in 2020 to 23% during the first half of 2021. So currently, the largest segment in the Chinese car market is unassailable for EVs.
Whether EVs can gain shares in China's largest segment will become an important indicator for forecasting whether EVs will become widespread globally in the future. This is because China, the world's largest car market, precedes the global trend.
When will EVs become mainstream in China's largest market segment?
EV batteries are still expensive in China, and overall EVs are relatively more expensive than gasoline-powered cars.
The Chinese government marks 2025 as the watershed year when EV demand will expand rapidly, as the cost of EV possession falls below that of gasoline-powered cars.
To realize this, China must clear the following three conditions. But it is highly probable that they will overcome these hurdles in a not-so-far future.
The first condition is lowering the cost of the power train, which is the power source for EV batteries and drive motors. Currently, the price difference between EVs and gasoline-powered cars in the mid-price segment is estimated to be 60,000-80,000 yuan (about 1-1.35 million yen). Looking at just the EV battery unit price, the cost in 2020 has fallen to one third since 2014. Also, with advancements in power train technology, the cost of driving parts such as batteries and motors is expected to fall 50% in 2025 compared to 2020.
The second condition is EV maintenance fee to become lower than gasoline-powered cars. If we calculate based on eight-year car lifetime and travel distance of 160,000 kilometers, an EV's initial cost and used car depreciation rate can be almost offset by maintenance, repair, and fuel costs (major Chinese EV manufacturer). The advantage of EVs is especially distinct in the big cities of China, for the costs of acquiring a license plate and driving regulations.
The third condition is cost reduction by economy of scale. Without substantial subsidies, it had been difficult for EVs to establish a competitive edge against gasoline-powered cars. But Tesla will launch a 25,000 USD (about 2.75 million yen) low-price EV in 2023. In addition to other industries entering the EV market, local manufacturers are expected to join the competition by mass-production. Especially if horizontal specialization is realized in production, with the accompanying modularization, smartification, and simpler and lighter design, the overall reduction of EV manufacturing cost can be expected.
The EV shift in China is certain to expand into the largest market segment after spreading in the high- and low-end segments. As the auto industry faces a grand transformation, there is a stark difference in the growth expectations towards dedicated EV manufacturers and conventional automakers.
Foreign finished vehicle manufacturers also position China as the most important market. In 2021, Volkswagen (VW) of Germany launched ID6 in China, its latest EV model in the ID Series, which uses MEB, the exclusive car platform for EVs. VW is also looking to introduce the next model, ID8. General Motors of the U.S. will launch Lyriq, a Cadillac-brand EV in 2022, and also plans to introduce an EV installed with the new ULTIUM battery to the Chinese market.
Japanese Automakers Expanding Lineup for China
As for the Japanese automakers, Toyota will launch bZ4X, a sport utility vehicle (SUV) using the e-TNGA platform dedicated for EVs, while also collaborating with major Chinese EV manufacturer BYD to co-develop China-exclusive models, and plan to release over 20 types of EVs by 2025. Honda will launch Honda SUV e:Prototype, the first Honda brand EV in China in spring of 2022. By 2025, Nissan plans to release total nine models in China; six models using its original e-POWER technology in which the engine drives the generator to create electric power, and three genuine EV models.
Automakers need to not only differentiate by power source but also by other factors such as design and on-board functions not related to car control.
(Tang Jin, Shanghai University of Engineering Science visiting professor)