"It's Quick, Cheap, and Runs!" Even Toyota Is Amazed? Japanese EV Ventures Surprise the World with Breakthrough Power
"Electric vehicles (EV) are an extension of radio-controlled model cars. We developed at a speed unimaginable for conventional car developers. We've clashed countless times with the engineer who had an experience managing car development," says President Masanori Yoshida of Aspark, an engineer staffing company in Osaka.
Aspark developed the EV super car Owl that can accelerate from 0 to 60 mph (about 96 km/h) in less than 2 seconds. They will only produce 50 units, to be sold at a price of 380 million yen. Aspark planned and designed the car, while an Italian auto company did the manufacturing. Productions will start this year, just nine years since the project emerged in 2012.
Awed Elon Musk
When the Owl development began, there were no auto manufacturers producing cars that could break two seconds in 0-60 mph acceleration.
In February 2018, Owl sent a shock wave across the global auto industry by hitting 1.89 seconds at a test run in Tochigi Prefecture. It allegedly made Elon Musk, President of the major EV company Tesla in the U.S. earnest. Currently, there are over six companies including Tesla, Pininfarina of Italy, Porsche of Germany, and a Croatian EV venture that have EVs accelerating from 0 to 60 mph in less than two seconds.
Various players, including emerging EV companies, traditional auto makers, and ventures, have joined the race for developing the world's fastest accelerating EV, and it was an engineer staffing company in Osaka that ignited the move.
Aiming for the Poor Man's Tesla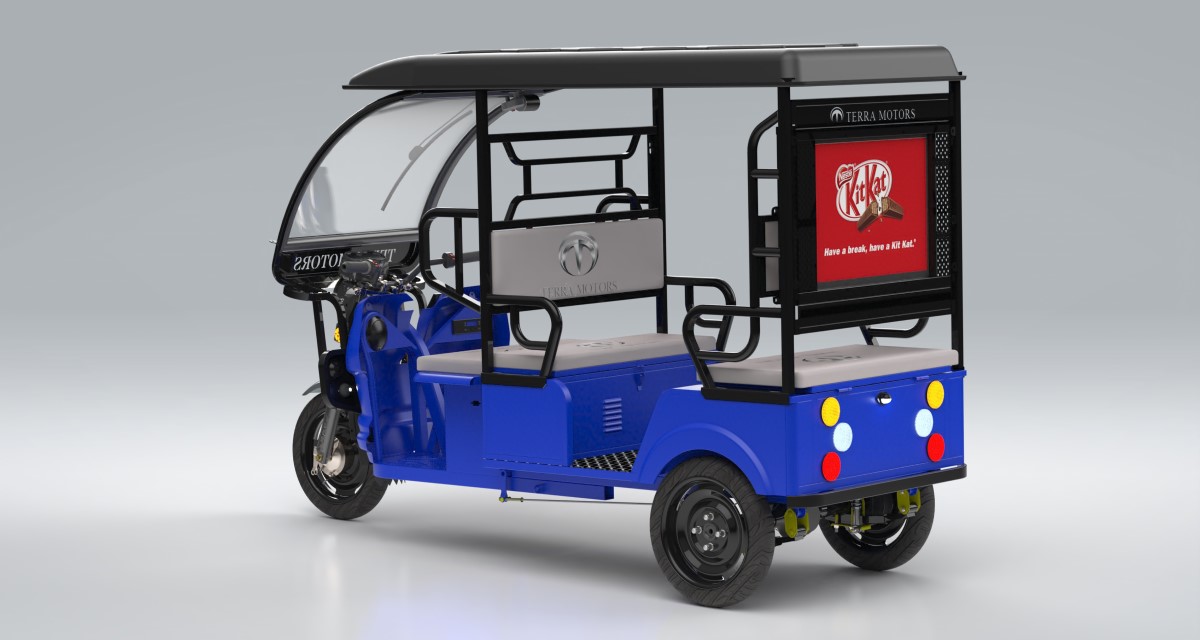 Terra Motors is taking an opposite approach from Aspark, with its challenge in India to spread the "poor man's Tesla" in emerging countries. The price is about 200,000 yen for the main three-wheeler EV "E-rickshaw," incomparably cheaper than EVs sold in Japan.
Furthermore, the company provides a free exchange of the motor and controller in case of any defects within a year of purchase, to help low-income people use the three-wheeler EV for commercial purposes.
Indian people use two-and three-wheelers for their business. Terra Motors noticed the users had low income and set up a finance (auto loan) business. This supports the income group that cannot afford vehicles.
Also, users can display advertisement on the back of the car to make extra money, which can be pay off the loan. Terra Motors will collect the ads. In the scheme, the company's two-and three-wheeler light mobility boosts the user's earning power.
Terra Motors will also help E-rickshaw purchasers increase income by finding customers more effectively, through collaboration with mobility companies offering platforms for local ride-share and delivery services. The company will also cooperate with the major two- and four-wheeler ride-hailing app company Gojek (headquarters Jakarta) that is already overwhelming the U.S ride-hailing app giant Uber Technologies in Southeast Asia.
Terra Motors also plans to launch two-wheeler EVs by the end of 2022. In India, new motorcycle sales reach 20 million units per year. The goal is to turn these into EVs. If EV sales increase, they can lower the price. This stands in contrast with Japan, where new motorcycle sales are 360,000 units per year, just one-fiftieth of India's market size, and prices remain high.
CEO Akihiro Ueda of Terra Motors Corporation shows his willingness, saying, "We will not just remain a manufacturer providing two- and three-wheeler EVs to the huge Indian market, but also aim to become an integrated mobility service company with EV as the main axis.
Amphibious EVs on Public Roads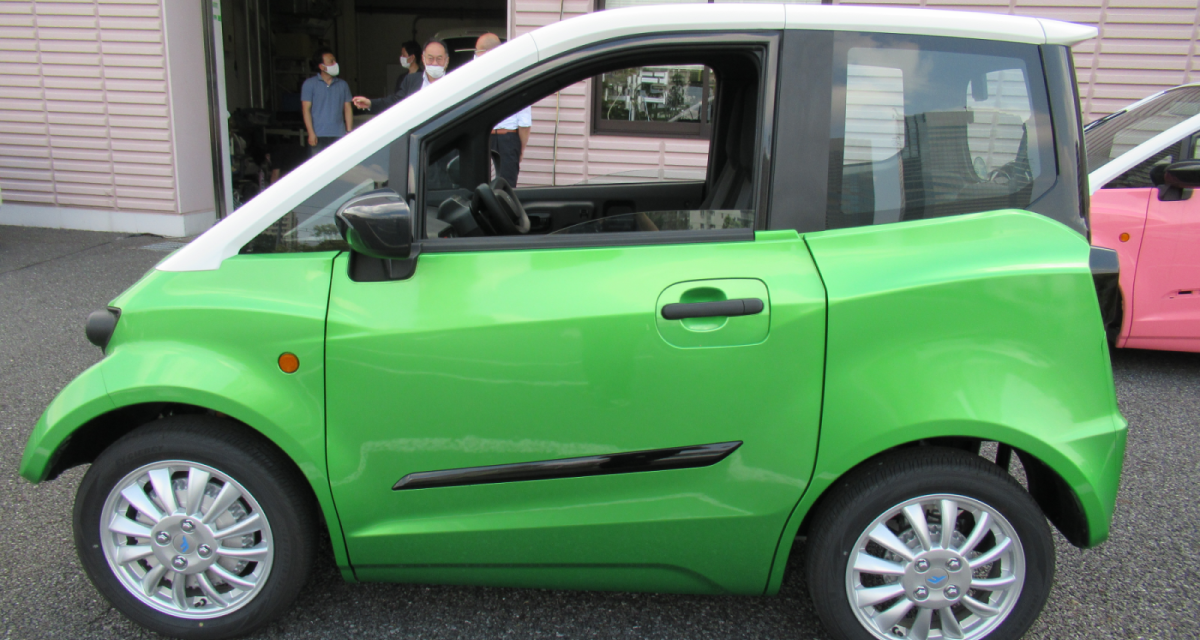 It was the former engineer at Toyota Auto Body that introduced the amphibious EV to the roads of Thailand. The model is now available in Japan, with commercial production in place. The Great East Japan Earthquake motivated CEO Hideo Tsurumaki to work on developing an amphibious EV at FOMM based in Kawasaki City.
Seeing many people killed by the tsunami, he thought, "a floating car can become a shelter." He established FOMM and developed the EV FOMM One, which can float and move in water with blade-equipped wheels.
That's not all. FOMM One is a practical compact four-seater EV in the light vehicle category. The number of households purchasing the model as their second car is gradually increasing in Thailand.
Even after FOMM One was put to practical use in Thailand, it took some time to gain the approval for running on Japanese public roads. In January 2021, it was approved as a light vehicle, and direct sales began.
At first, it seemed difficult to get the license plate approval for a light vehicle in Japan. But things started rolling since FOMM One was showcased at the 2019 Tokyo Motor Show. A crowd of visitors filled the exhibition space and examined the vehicle in earnest. That encouraged Tsurumaki.
"The move from there was quick. The global trend on decarbonization.was intensifying, and a world that seeks EVs finally arrived."
FOMM One is a light vehicle, so unlike the ultra-compact mobility vehicles for one or two passengers designed for short distances, it can travel on highways. It is expected to become popular as a means of transportation for green-minded families.
Former Yamada-Denki Executive Makes a Challenge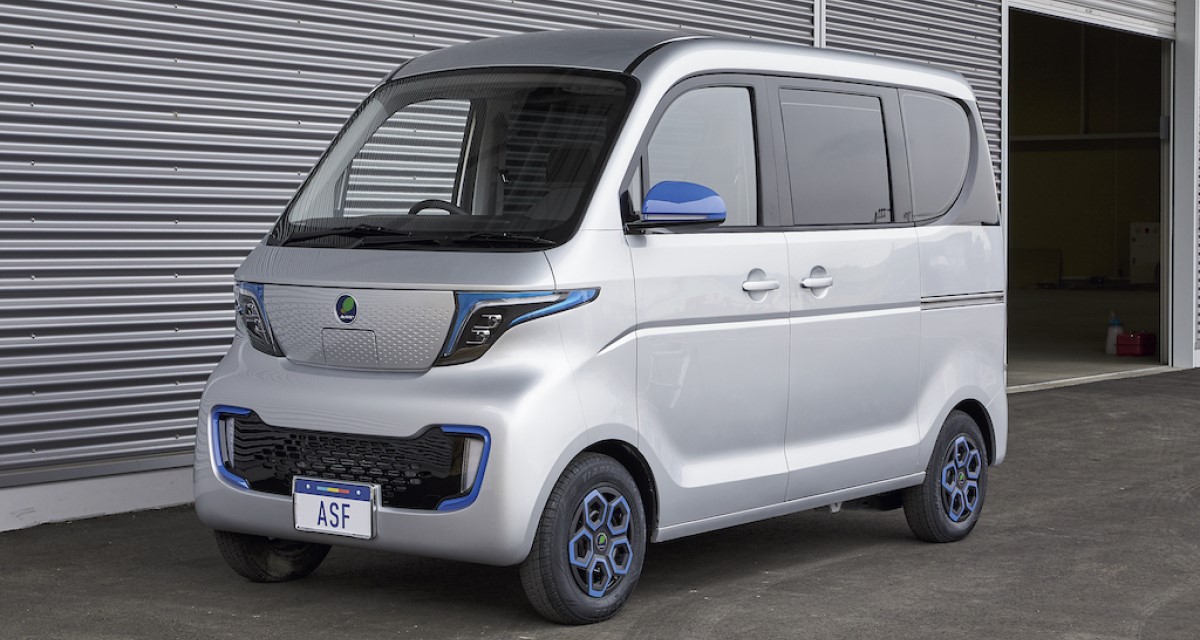 "Our goal is to create the Iris Ohyama in automobiles. Consumers only care about the price," says President Hiroyasu Iizuka of AFS (Minato-ku, Tokyo), a fabless EV venture that provides 7,000 compact commercial vans manufactured in China to Sagawa Express, a major home-delivery service company.
He worked 35 years until retirement at Yamada-Denki, rising to the position of Director and Executive Officer, Vice President. Yet, he established ASF last year, thinking, "What can be done in home electronics must be possible with automobiles. I want to launch an EV under one million yen." They outsourced the manufacturing to Wuling Automobile of the Guangxi Automobile Group.
A major contract like this could proceed quickly, because he had been contacting multiple Chinese companies towards mass production of EVs while he was still at Yamada-Deniki. Wuling Automobile is happy with ASF's swift response, saying, "If we request evidence for a certain part, they get back to us the next week with the answers."
The compact commercial van provided to Sagawa has storage space for a laptop, document binder, and drink carton, a design optimized for the convenience of the delivery staff. Sagawa will receive the EV vans in September 2022. The target price will be under two million yen. He says, "We will make it cheaper than other Japanese EVs of the same size. Our aim is to make the vehicle's life-cycle cost (from purchase to disposal) cheaper than gasoline-fueled cars."
On June 30, Cosmo Oil Marketing announced their investment in ASF. Cosmo will use ASF's EVs for its car leasing and sharing businesses, and also provide charging, maintenance, and car inspection services at Cosmo gas stations.
General trading company Sojitz, an investor since ASF's foundation, says, "We see EVs as power storage infrastructure, and through partnership with ASF, we will also consider wireless power transfer and use of renewable energy."
Sagawa is not the only one eager to use ASF compact commercial vans for delivery. Multiple major companies in corporate services and home delivery are in talks with ASF to buy 5,000 to 10, 000 delivery vehicles.
Toyota Welcomes the Move
If cheap and compact EVs become widespread, the commoditization of cars would proceed, and the added value created by the auto industry would certainly shrink. However, Toyota welcomes compact EV ventures in Japan, stating that more players joining in with new technologies is a good thing for the EV, or any industry.
Although the company may seem to oppose the electrification trend, Toyota has launched the two-seater compact EV C+pod last December. The price is 1.65 million yen. With five hours of charging, it can run up to 150 km. The model is initially available for corporate users and local governments.
According to the Ministry of Land, Infrastructure, Transport and Tourism, approximately 60% of the distances travelled by vehicles are within 10 km in Japan, and the number of passengers is usually two or less. Based on this data, Toyota says, "By being practical on capacity and cruising distance, and minimizing the amount of battery, we made C+pod affordable."
Competition When Cars Are Sold at 500,000 Yen
Yet, SAIC-GM-Wuling (SGMW) in which even U.S. General Motors has a stake, launched Wuling Hongguang, an ultra-compact EV at a destructive price of 28,800 yuan (about 490.000 yen) in July 2020. Its cruising distance is 120-170 km, about the same as C+pod. Wuling Hongguang overtook Tesla sales soon after the launch and topped the EV sales in China.
Toyota and other Japanese auto manufacturers will compete against fabless EV ventures that can flexibly collaborate with these Chinese forces.