Rui Hachimura's Long Absence for Personal Reasons: "Natural for Him to Be Quiet About It"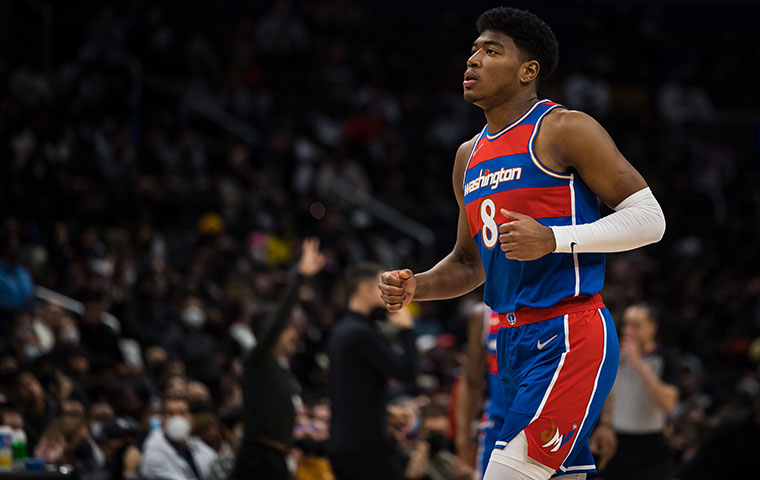 After a long absence from the start of the season, Rui Hachimura returned to the Washington Wizards roster on January 9 in the game against the Orlando Magic. He seems on the rise—averaging 8.1 points and 3.7 rebounds in the seven games through January 21 and scoring double digits for three straight games on January 17, 19, and 21.
It has been a long way to get here. Last summer, Hachimura attended the Tokyo Olympics as a member of Japan's national basketball team. After that, he missed the Wizards' training camp that began in late September, as well as all the pre-season games. In mid-October, he was reported to have arrived in Washington D.C., but we had to wait until the 40th game to see his debut this season.
Hachimura has not made public the specific reason for his long absence, but his teammates and other people involved have supported him warmly on his return, and we get the impression he is playing in a relaxed mood. How does the local media view the Wizards' number eight? I asked Ava Wallace at The Washington Post, who became the Wizards beat reporter during the 2019-2020 season, Hachimura's first year in NBA.
"I Thought It Was Natural for Him to Stay Quiet About What Happened"
"It was no big surprise for me that Rui was away for a long time for personal reasons. Before becoming the Wizards beat reporter, I also covered college basketball, so I've interviewed Rui when he was playing for Gongaza University. Rui was really shy as a college player, and I had a tough time trying to get words out of him."
"I knew he was a quiet type, so I thought it was natural for him not wanting to share what happened during his long absence. I already had the understanding at that point how hard it was for an athlete that attracts so much attention to continue to be subject to media scrutiny."
"At the first press interview in months, following the comeback game against the Orlando Magic, Rui was smiling a lot. He declined to go into detail, yet the most impressive comment was, 'I learned I really love basketball.' That means, until then, he didn't have the feel that he really loved the game, right? So that was interesting and seemed quite telling."
Surprised by No Leaks on Hachimura's Situation
"If there were any surprises in this case, it was that during Rui's absence, there were absolutely no news leaks about his circumstances. In the NBA ecosystem, almost all information leaks from the agents, and made public by reporters like Adrian Wojnarowski of ESPM.com or Shams Charania of the Atlantic."
"In Rui's case, that didn't happen, which I think will work positively for his future relations with the team and his agents. I was impressed that the Wizards consistently supported Rui. I guess the people at the front office didn't want to betray the trust of the athlete, and because they didn't do that, they can earn the trust of other players."
"Rui felt this time off was necessary in his basketball career, and even after such a long absence, he knew he had a place to go back to. He also found out who would support him and who he could trust."
"Of course, being away for so long must have significant affects and he needs to keep on playing well. But in the end, I think it could well be that this break will have a positive effect on his basketball career."
At the highlight match on January 21, against the Toronto Raptors with Yuta Watanabe, Hachimura played for 19 minutes and 50 seconds, the longest time this season, with 11 points and the season-high eight rebounds. He had a chance to match up with Watanabe and excited the audience. Before and after the game, he exchanged friendly words with his buddy in the Japan national team, giving the impression that he is doing well. At the postgame interview, he said, "I'm getting my rhythm back bit by bit. I really enjoy being able to play amid the cheering from the crowds."
Now that Hachimura is back in the Wizards roster, how will he contribute to the team? After the game on January 24, the team led by the new head coach Wes Unseld Jr. has 23 wins and 24 losses. It is still positioned to aim for the playoffs.
With Kyle Kuzma, Kentavious Caldwell-Pope, Deni Avdija, Davis Bertans, and Corey Kispert in the forward lineup, the team has more depth. Up to the previous season, Hachimura had been a starter for all games, but now, he needs to compete to gain more time on the court. For a while, he is likely to come off the bench, so what should he aim for on the court? I asked reporter Ava Wallace about Hachimura's outlook for the latter half of the season.
Condition Is Superb; Need to Adjust to Off- Bench Role
"I think Rui has been playing well since he returned. He is just coming in from a long break, so he still needs to work on the touches around the hoop, but that was all expected. He has powerful movement and seems conditioned to play for full-48-minutes if he wanted to."
"Going forward, we will see what kind of role he can play in the team. The Wizards now have a lot of forwards, like Rui. At NBA, he has always been in the starting squad and has never experienced coming off the bench, so it will be interesting to see how he adapts to the role."
"We are already halfway through the season, and the players' roles within the team is fixed to some extent. So, the decision by head coach Unseld Jr. and the other management on who Rui will play with and for how long will be the key. In any event, Rui is a player that has long been in the Wizards' starting five, so I think he is very likely to play an important role even off the bench."
"As for his regaining the starting position, if the team continues to perform well with the current members, Unseld Jr.is unlikely to change the starters. Rui can play several positions in defense as well, so his versatility would be an effective weapon even coming off the bench. So far, Deni Avdija was the only bench member that had strong defensive power, so Rui's presence will be a leverage for the bench lineup."
"However, this applies not only to Rui, but if you can't play well in a team that has increased depth considerably, you may lose your time on court. Even Bradley Beal is having fewer average minutes, so it could happen to anyone on the team."
If He Could Brace-up the Team with Defense…
"As I said before, Rui seems in great physical shape, but it's very difficult to join the team mid-season and show brilliant performance. It probably isn't easy to set goals on what he wants to achieve this season."
"Rui's goal in the previous season was to improve his 3-point shooting and be more aggressive on offense. For this season, if Unseld Jr. has expectations for his defensive power, it may be a good idea to focus on defense. In the past, Unseld Jr. has publicly stated that players with good defense will gain more minutes. If Rui could become a player that can brace up the team through defense coming off the bench, it will significantly enhance Wizards' strength."