World Cup Qatar: Why Foreigners in Samurai Blue Jerseys Are Rooting for Japan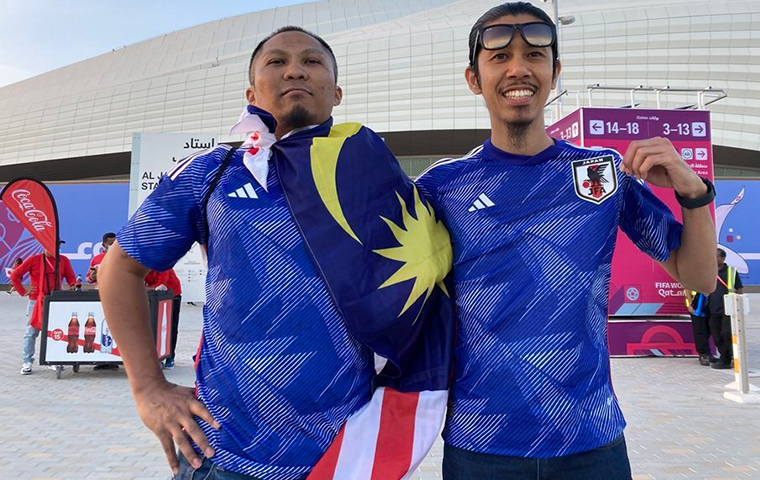 While covering the latest World Cup, there was something that struck my attention.
When I go to a match (mostly Team Japan games), there are all these foreign supporters clad in Samurai Blue jerseys. It is a sight I hardly ever saw in the past World Cups.
The current Samurai Blue uniform is stylishly designed, so people may wear them simply for the cool look. However, there seems to be more to it.
Could it be that, as Japan beat Germany and Spain, people were impressed and the uniform suddenly became popular? Or just like Brazil or Spain, with fans around the world wearing their jerseys, has Japan become an object of admiration? It can't be.
So, I went up to these men and women and asked, "Why are you wearing the Team Japan's uniform? Does it mean you are rooting for Japan?"
Went to Japan and "Loved the Country"
As it turns out, almost no one said it was because of Japan's impressive performance at Qatar 2022. Of course, they were pleased with the outcome, but that was not the reason they were rooting for Japan.
There were two main reasons the foreign supporters wore the Samurai Blue jersey.
First, they had experience traveling to or living in Japan, which made them "love the country."
Before the game between Belgium and Croatia, at the shopping mall near the Ahmed bin Ali Stadium, I found a group of three men. One was wearing the Belgium uniform, another had on the Japanese jersey.
I thought it was an interesting combination and had a talk with them. Originally from Mexico, they were now living in Texas, U.S. They said they visited Japan before the COVID pandemic, and "absolutely loved the country," and became Japanophiles.
A German Man Who "Used to Work for a Japanese Airline"
Since their home country Mexico was already eliminated in the group stage, after going to the Belgium vs. Croatia match, they said they would watch Japan vs. Spain on TV that evening. The man in the Belgium uniform said, "Actually, I also have one," and presented his Samurai Blue jersey from his bag. While enjoying the overall experience of the World Cup, they were also deeply concerned if Japan could advance to the knockout stage.
On the day of the Japan vs. Croatia match, at the Al Janoub Stadium, I met a German man who lives in Singapore. He said he "worked for a Japanese airline from 2007 to 2009 and lived in Akabanebashi (Tokyo)."
He says Japan has become his favorite country ever since. Dressed in the Samurai Blue jersey with the Urawa Reds scarf around his neck, he headed for the entrance gate.
"Because Japan Is Representing Asia"
And another reason, or the most common answer, for these people to wear the Japanese uniform, was because "Japan is an Asian country."
Sure enough, many of the foreign fans wearing the Japanese uniform were of Indian or Southeast Asian origin.
One such group, two men from Malaysia, said elatedly, "Japan is competing as the representative of Asia, so of course, we'll cheer for Japan."
"Japan is an Asian country, and so is Malaysia. So, we'll root for Japan. If they win this match (against Croatia), we must somehow get tickets for the next match."
Draped in the Malaysian flag, they rooted for Japan as if cheering for their own country.
Next was a married couple from the Philippines, now working in Doha. They came to the Japan vs. Croatia match with a toddler in a stroller. They were originally fans of Japanese anime. "Our favorite titles? There's so many, the list is endless." The Japanophiles seemed puzzled by my question, saying, "Japan is an Asian country like us, so of course we'll root for Japan."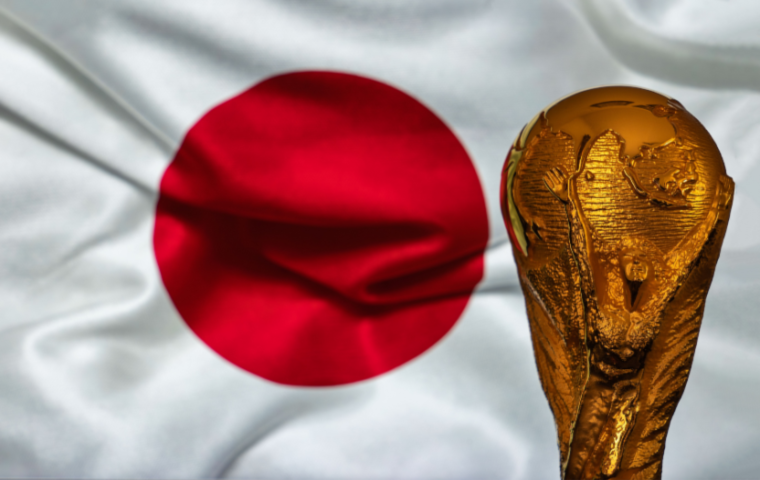 Qatari Woman with the Japanese Jersey Under Her Traditional Dress!
Yet, it was not only people from India and Southeast Asia that cheered for Asia's representative, Japan. The locals in Qatar showed similar support.
Just before Japan's game against Croatia, I was about to head to the press section in the stands when I saw a woman wearing a black abaya (Arabic traditional dress) over Japan's uniform.
Women in the Arab world wear the abaya to conceal their body shape, so I guess you are not really supposed to show the clothing underneath. Moreover, I rarely saw any female fans in the past at the stadiums in Arabic countries. So, finding women in the black Muslim outfit at a stadium was an entirely new experience, unique to this World Cup.
Yet, there was this woman wearing a soccer uniform under her abaya. And it was a Samurai Blue jersey. I was stunned.
I definitely had to talk to her. But I wasn't sure if I could suddenly go up and talk to the woman. With much hesitation, I took the plunge and spoke to her male companion. They were happy to answer my questions.
She was a local, who lives "about 15 minutes from the stadium." I didn't ask for details, but they were unlikely to walk to the stadium, so I guess it was 15 minutes by car.
Why They Root for Japan
When I asked her why she was wearing Japan's uniform, she answered readily: "Because it's an Asian country."
"Qatar had lost, but I want our Asian representative to advance in the tournament. So, I'm rooting for Japan."
Before we parted, I asked if I could take a picture. She said okay, if together with the man.
It wasn't that Japan suddenly became popular because of its victories over Germany and Spain. Rather, we could say the reason they cheered for Japan was more down to earth.
However, if Japan had been an extremely weak team that could not win at all in this World Cup, would the foreign supporters have such delight rooting for the team?
If the Samurai Blue had put up fights that lived up to the expectations of those with common Asian roots, I could not be prouder.
This is a translation of the Japanese article published on Number Web on December 14, 2022.