Why the Nets Is Eyeing the Japanese Market: "Brooklyn Could Become Watanabe's Home"
The key figures of Japan's national basketball team got together in New York City, dubbed the "capital of the world."
On November 30, Tom Hovasse, Japan men's national team head coach, came to Barclays Center to watch the Brooklyn Nets vs. Washington Wizards match. Before the game, Rui Hachimura approached Hovasse at courtside, later joined by Yuta Watanabe. The three of them engaged in an animated conversation.
"There wasn't much time, so it wasn't like giving advice. Instead of the usual FaceTime, we communicated (in person)—about seeing the national team games, or who is performing well. It was good of them to keep track of the data and stats."
Like Hovasse said after the game, the encounter was too short for any in-depth discussions. Still, the skipper seemed pleased, saying, "Since Yuta and Rui were in the same venue, I wanted to come and meet them. Though brief, I'm really glad I got to see them." There were also many Japanese fans in the arena that day, and it was a grand sight to see the three key figures of Team Japan together.
No Head-to-Head Battle on Court
It was a pity the two stars missed the game. Watanabe has been out since November 22 (local time) with a right hamstring strain, and Hachimura has been out since November 20 with a right ankle injury. The face-off between the two before the eyes of the national team skipper would doubtlessly have been a spectacle, so it is true the game lacked the highlight.
However, the three are not overly disappointed, and I was impressed, especially at how Watanabe reiterated positive comments at the post-game press conference.
"I could play if I pushed myself; that's the level of the pain. But it's at an awkward part, so if I overwork myself and it gets worse, it could take a month or two to recover, and the team can't risk that either. As for myself, instead of overdoing it now and having to rest for a longer period later, I'd rather have it properly cured. Of course, I want to be in the game, and I feel frustrated because I was performing well, but I'll take my time."
It sounds like a resolution for when he comes back. Behind his words must be a sense of achievement he gained earlier in the season. Although Watanabe began the 2022-2023 season with a non-guaranteed camp contract, he appealed with brilliant play during training camp and openers. Once in season, he also played brilliantly with a soaring reputation.
"He doesn't hesitate now. With no hesitation, he can shoot threes with confidence."
As Hovasse says, besides his signature hustle play and defense, Watanabe's three-pointers are in real good shape this fall. Since November 15, he has sunk over four threes in three successive games, and at the November 20 Grizzlies game, he sunk four consecutive threes in the fourth quarter and received a standing ovation from the local fans.
When dropped from the roster, Watanabe was leading the league with 57.1 three-point percentage, so no wonder he had confidence. It was thrilling to observe his process of becoming a fan favorite in a short period of time.
"The NBA Coming to Understand Hachimura's Play"
As for Hachimura, who has been running ahead for the last three years, his early-season performance has not been as sensational as Watanabe's.
"The NBA is gradually coming to understand his play. This year, I think he has less playing minutes, but that's not his fault. I believe it's more to do with the team," said Hovasse.
It does seem that the Wizards have not established a way to make the best use of Hachimura. That could be why this season, his average time on the floor is just 23.5 minutes, less than 30.1 minutes in his first year and 31.5 minutes in his second year. Yet, in all 16 games, he played off the bench, but marked double-digit scores in 13 games. Since it was his last contract year, he was highly motivated, so when he returns from injury, depending on how he is used, Hachimura could pick up pace.
In this way, the two players have each built their reputation. Especially with Watanabe showing remarkable growth, the NBA Japanese showdown could take on a new stage.
Japan may come more and more under the NBA spotlight. Hovasse came to see the game on November 30, not just because he wanted to. In the background, there are also the Nets' expectations, with the New York powerhouse looking to boost the Japanese market.
Before the Nets against Wizards match on November 30, a reception was held at the Barclays Center suite, inviting Japanese media and other parties involved.
As steak, lobsters, and sushi freshly made by the chef were served, Hovasse and Watanabe came to the suite. It was a lively session, with the CEO Sam Zussman of BSE Global, the parent company of the Brooklyn Nets, and the Nets' public relations group greeting the guests. Such hospitality will not be a one-time event, since more plans seem to be in the works to invite various Japan-related people.
These days, Watanabe's portrait frequently appears on the arena billboard. Before the December 2 game, I was invited to the Nets official podcast. Looking at the team's approach, it is obvious the Nets are eager to develop Japanese corporate partners and fans. Of course, Joseph Tsai, cofounder of the global internet company Alibaba and owner of the Nets, is also supportive of the team's direction.
"Brooklyn May Become Yuta's Home"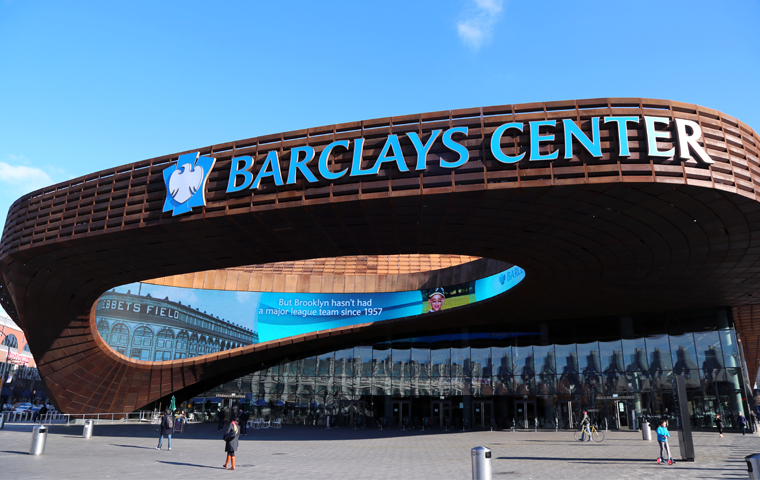 "When I heard Watanabe got an offer from the Nets, I thought straight away it was a great chance. When playing together with Kevin Durant and Kyrie Irving, he knows his role. That's why he doesn't hesitate . He made a great decision signing with the Nets. I feel really good for him, and really good for the Japan national team," said Hovasse in an interview after the Nets vs. Wizard game.
He added, "If things go along this line, Brooklyn may become Yuta's home." Given the recent moves by the Nets, it seems the team's executives are also hoping for the same.
It should be stressed that these developments result from Watanabe's impressive performance. When he was set to join camp with a non-guaranteed contract, the initial treatment and the level of attention he received were equivalent to or even lower than other young players. On NBA Media Day, while the key players spoke to the media one at a time, Watanabe was in no position for such privilege. Despite the attendance by many Japanese media, he shared his time on stage with a player in his second year.
From such a status, the number 18 has pulled himself up by his bootstraps. Prior to missing the games with an injury, he had reached the point of creating a rather unexpected chemistry with the NBA superstar Kevin Durant. As he became one of the fan favorites at Brooklyn, he has gradually influenced even the Nets and the Japanese market.
As you may know, Hachimura's team, the Washington Wizards, is focusing on developing Japanese fans, and has already launched the Japanese-language version of its official website. Since Watanabe and Hachimura are playing at relatively close venues, it is exciting to see the synergy effect the two Japanese players and their teams will create.
"Right now, I'm having a weirdly high three-point percentage of 57 percent, which even myself think is unsustainable. It's not such an easy league. Going ahead, of course it will get tougher for my threes. But I still need to keep scoring at high rates, or I won't get minutes on the floor."
Like he says, a remarkable performance early in the season does not guarantee the future. The fact that the two have been missing games with injury seems like a reminder of the tough situation. After Watanabe and Hachimura return to the games, they have to continuously show their values as a player. In the ebbing and flowing of the American sports scene, various movements emerge and soon fade each year.
Yet, because it is such a competitive world, there is immense value for the two to survive and show their splendor. So, further down the road, in various terms, there seems to be a good chance that an even more exciting future may await them.
This is a translation of the Japanese article published on December 7, 2022 on the Number Web.